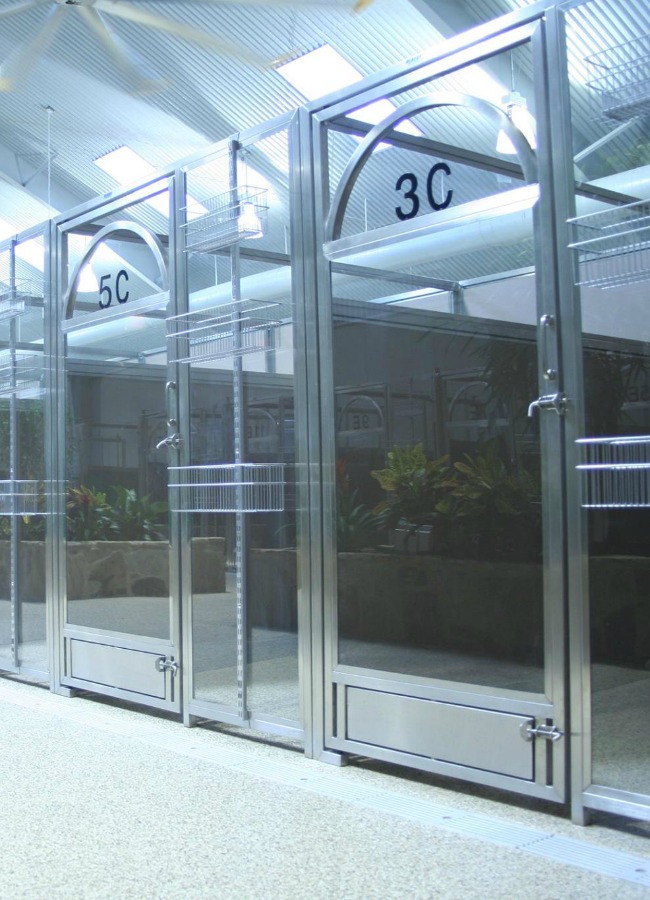 Indoor Heavy Duty Dog Kennels
Direct Animal provides high-quality, heavy-gauge stainless steel dog kennels for animal shelters, doggy daycare providers, humane societies, canine police, and more. For 35 years, we have been proud to offer our customers cost-effective solutions for indoor or outdoor boarding designed to provide the highest level of comfort for canine residents. Our doggy daycare kennels are engineered to withstand heavy use day after day, year after year.
Heavy Duty Dog Kennels for Animal Shelters and Doggie Daycares
Whether you're looking for standard raised floor kennels or need a specialized kennel bank for a challenging space, Direct Animal has a solution that fits your needs and budget. Our unique commercial dog kennel designs complement any setting, from the trendiest doggie daycare facility to a brand-new animal rescue.
Key benefits of our outdoor and indoor dog kennels:
Low maintenance and easy to clean
Improved hygiene
Excellent ventilation, less stress on animals
Adaptable kennel components for more flexibility
Durable heavy-gauge stainless steel that lasts years
Solid components and latches reduce kennel noise and ensure quiet handling
Professional K9 Kennels for Every Type of Business
We offer an extensive selection of heavy-duty animal cages, doors, and gates to match your needs, including:
Raised kennels
Extreme kennels
Stainless steel doors, side panels, and back panels
Double-stacked dog kennels
Guillotine-style doors
Groomers, veterinary practices, luxury boarding facilities, humane shelters, and animal rescue centers praise the strength and durability of our kennel runs, doors, and gates. Our flexible panels and kennel components work for dogs and spaces of all sizes.
If you're investing in new kennels for your boarding facility or animal shelter, finding the right fit is essential to ensure the comfort, health, and safety of the dogs in your care. Here are some of the reasons you'll love Direct Animal's stainless steel dog kennels:
Stainless Steel Commercial Dog Kennels Last a Lifetime
Every one of our cages is built using top-quality, high-gauge stainless steel that is hand-polished to a beautiful finish. We also pay extra attention to every screw and bolt that goes into the construction of the metal kennels, ensuring only solid components and latches that stay secure and reduce handling noise.
Animal Shelter Kennels Make Things Easier, Cleaner, and Safer
Our heavy duty animal cages are equipped with standard and optional features that make your daily tasks easy to complete.
You can quickly change out food and water without removing animals or opening the cages, using our rotating bowl feeders.
Raised floors with removable crates make it easy to remove and clean animal waste—also making for happier, cleaner animals.
Every cage is designed with slam latches, so you can easily and confidently lock each crate even when your hands are full.
The high-gauge stainless steel also makes cleaning a breeze, helping you meet and exceed sanitation standards.
Professional Dog Kennels Can Be Custom-Fitted to Your Space, Needs, and Budget
Whether you're housing police canines, boarding pups at a luxury boarding facility, or trying to find a cost-effective solution for your non-profit animal shelter, we can create a design that works for you.
Our commercial dog kennels are affordable, functional, and come in a variety of sizes, styles, and colors. They also include various choices for back and side panels, doors, frames, and more.
Shop Our Heavy Duty Outdoor and Indoor Dog Kennels
At Direct Animal, we love animals just as much as you do—that's why we've spent the last 35 years designing veterinary equipment that helps create cleaner and safer spaces, increases productivity, and can withstand a lifetime of heavy use.
Luxury boarding facilities, veterinary clinics, canine police, and other animal-focused businesses across the U.S. and Canada have put their trust in us when looking to incorporate outdoor or indoor dog kennel systems into their facilities.
Call us today to set up a free consultation and see how we can help you create the perfect professional dog kennel system for your business.