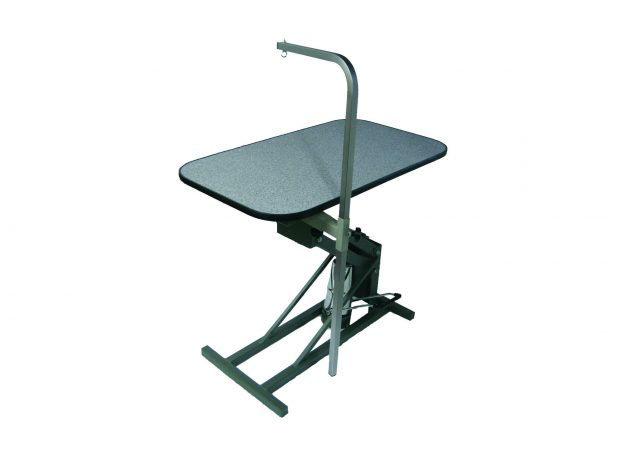 Pet Grooming Tables for Professionals
The dog grooming tables available from Direct Animal Products are built to last! We build our professional dog grooming tables to last utilizing expert design and our commitment to the highest-quality materials.
Commercial Grade Dog Grooming Tables
The animals under your care deserve the very best, but your vet practice or boarding facility needs affordable options. The solution is the premium dog grooming table by Direct Animal. Choose from our line of electric dog grooming tables and stainless steel drying tables that are built to last and designed to flexibly fit into any size practice.
Our Pet Grooming Tables Are Built to Last
Our in-house fabricators only use the best available material: Type 304 stainless steel. It's the material of choice for veterinarians and groomers because it's nonporous and easy to keep sterile. It's also highly durable. Decades from now, your table will look and function exactly as it did when it was brand-new.
Direct Animal also chooses stainless steel for our professional dog grooming tables because it's exceptionally strong. Our heavy-gauge steel is designed to safely support dogs ranging in size from teacup poodles to Great Danes—all without compromising the pets' comfort.
You Deserve an Ergonomic Dog Grooming Table
Here at Direct Animal, we've spent a lot of time listening to the concerns of groomers and vets. And we've learned that plenty of you have bad backs, thanks to poorly designed equipment. We plan to change that.
Our Electric Lowboy Grooming Table, which can be either mobile or stationary, features an easily adjustable height from six inches to 42 inches. Keep your hands on the pets while you operate the foot switch to adjust the height as needed. We recommend lowering the grooming table all the way while you get large dogs on the table, then raise the height as needed.
A Grooming Table That Prioritizes Dogs' Safety
Direct Animal understands that nothing is more important to you than the safety of your furry clients. It's our priority too, which is why we've loaded our designs with safety features—like the built-in post, clamp, top, and bellows cover. Plus, the super heavy-duty electric jackscrew is operated with a foot switch, so you can keep your hands on the pet at all times for added peace of mind.
We've specially engineered the electric jackscrew components to operate smoothly and quietly to keep animals feeling calm and secure during each height adjustment.
Direct Animal has decades of experience working closely with veterinarians, pet boarding facilities, animal shelters, doggie daycare providers, and more, learning about their day-to-day needs. Our professional dog grooming tables are specially designed to suit your needs while prioritizing the comfort and safety of the animals.
Get in touch with us today at 877-459-7827 or sales@directanimal.com for more information about our affordable veterinary equipment solutions.