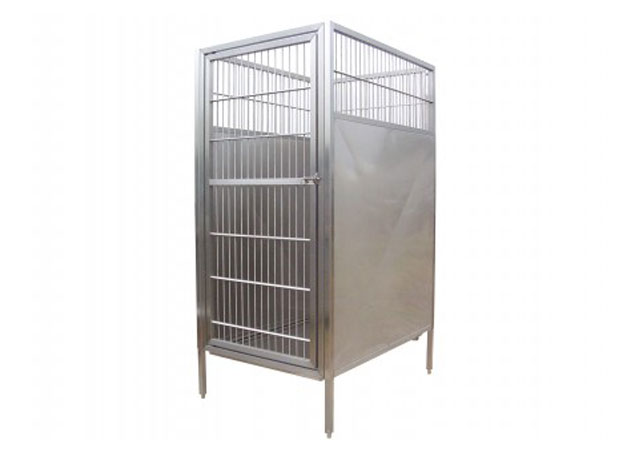 Direct Animal delivers healthy, durable raised dog kennels with innovative designs that feature the industry's most sanitary, noise reductive, and comfortable holding pens. Escape artists and the most active dogs are no match for our heaviest-gauge stainless steel. High-density-foam-insulated panels absorb the barking, yipping, and whining clamor to give you a quieter overall environment. We combine practical considerations with attractive aesthetic options that meet with your vision of professionalism.
Customize Your Raised Dog Kennels
What's your vision? Classic stainless steel with glass doors, or bold color panels blended with steel to add a cheery look to your facility? At Direct Animal, all components are designed to fit together, but you'll also find all the right customization options for size, color, and material to suit your veterinary practice, boarding facility, doggie daycare, grooming spa, or adoption center.
Choose from:
Raised Dog Kennel Doors – With stainless steel or tempered glass with stainless steel tubing
Back Dog Kennel Panels – With stainless steel or Starlite color options
Side Dog Kennel Panels – With stainless steel or Starlite color options
If it's color you love, choose vibrant Starlite. This durable polyethylene is the same antimicrobial material cutting boards are made from, and it comes in fade-resistant blue, clay, gray, green, maroon, orange, red, or yellow. See what can be achieved with Direct Animal raised dog kennels by visiting our custom gallery for inspiration.
Raised Kennels Offer Comfort and Cleanliness
If you're dealing with dogs, you need a holding facility that resists waste, bugs, and cold. Customers choose a raised kennel over other types because it literally lifts pets off the floor, keeping them clean and comfortable. Thanks to the raised design, Dek-cellent antimicrobial flooring, and stainless steel waste collection pan, dogs in your care will never find themselves standing in urine, feces, fungus, or bacteria.
The shock-absorbent flooring and noise-reductive side panels ensure a comfortable, insulated place for pets to rest.
Like all other products we offer, our raised kennels are designed for maximum comfort, efficiency, safety, durability, and ease of use.
For assistance in configuring the best raised dog kennel floor plans for your facility…
Contact us at 877-459-7827 or sales@directanimal.com for personalized customer service.