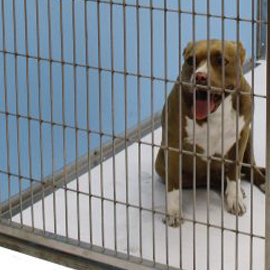 Extreme Kennel Systems for Animal Shelters and Pet Daycares
Direct Animal created the Direct Extreme Kennel System to meet the everyday needs of luxury pet boarding facilities, doggy daycares, animal control, rescues, and veterinary hospitals.
Multi million-dollar pet boarding facilities feature our kennel systems in the most prominent touring portions of their facilities because our kennels made a bold statement. Now, you can too.
Ready to Install Anywhere, Even Imperfect Spaces: Our Beautiful Dog Kennel Panels Attach to Any Slope for a Perfect Fit Every Time
Attractive styling for a high-end, professional look
Perfect-Fit Sloping System mounts perfectly to your existing floors
Heavy-duty stainless steel, constructed to last for years and years
Easy to clean
Available in an array of colors
Made with FDA approved high-density plastic panels
Resist scratches, bacteria, and odor, even with daily use
Dog kennel panels and door designs in standard sizes or custom-tailored to your specifications
Whether you're working with limited space or looking to optimize your kennel layout, Direct Animal's indoor dog kennels are the perfect solution for any space and animal care facility.
Our dog kennel panels and door designs come in standard sizes, as well as custom options tailored to your facility's unique needs and specifications.
Upgrade Your Facility With State-of-the-Art Kennels
At Direct Animal, our kennels are widely recognized as the best in the industry—and our new extreme kennel system passes the styling test with flying colors!
Our high-quality K9 kennels are carefully designed to withstand everyday wear and tear for long-lasting performance, safety, and durability.
Which Extreme panels fit best in your kennel floor plan? Contact us at 877-459-7827 or sales@directanimal.com for assistance.