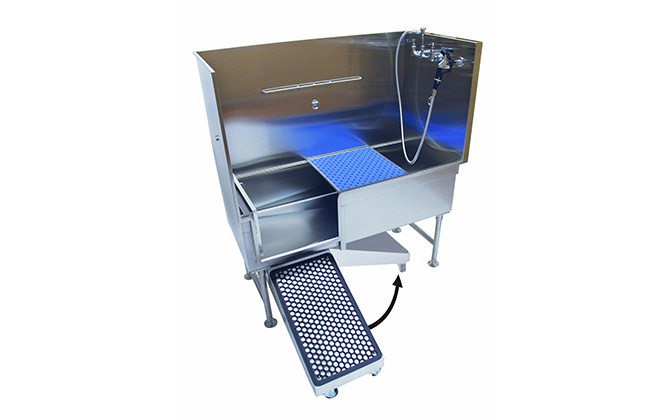 Professional Dog Grooming Tubs
Whether you're running a doggy daycare, grooming facility, or animal shelter, bathing animals is so much easier with our patented professional grooming tub. Made of rust-resistant stainless steel, our high-quality dog grooming tubs offer unmatched durability and easy maintenance while keeping your animals comfortable.
Say goodbye to heavy lifting with durable tubs designed for animal breeds of all sizes. Expertly designed with your comfort and safety in mind, our pet grooming tubs are equipped with swivel ramps, hydraulics, and doors that help your team avoid the stressors of daily bending and lifting.
Grooming Tubs for Dog Daycares, Pet Hotels, Groomers, and More
Dog grooming tubs are essential to every type of animal care facility, from pet hotels to animal shelters. At Direct Animal, our professional grooming tubs feature a unique rust-free design, which is both highly durable and leak-resistant. Plus, with an innovative swinging door and free elevated grate, you'll have an easier time getting your furry clients into and out of the tub.
Some of the features that make our grooming tubs a great value include:
Maximum durability: We offer several bathing tubs in 16GA stainless steel, the heaviest gauge steel in the industry.
Leak-free and rust-free design: Our fully-welded, one-piece designs guarantee no leaking or rusting.
Back-saving benefits: Elevating grates lift smaller dogs to a comfortable working height. Our ramps, hydraulics, and doors also save you and your team from potential injuries and the physical stress and lifting heavy animals.
Accommodates pets of all sizes: With the deepest tub on the market (28-1/4″), it's easy to bathe large breeds.
Keep animals secure: Leash rails and D-rings provide secure anchoring for everyone's safety.
Increased comfort for pets: Unique grate guide systems push water toward the drain, keeping animals' feet out of standing water.
Shop Our High-Quality Dog Grooming Tubs
Hydraulic
Swivel ramp
ADA-compliant tub
Swivel ramp 60"
Removable ramp 60"
Removable ramp 48"
Full sides
45-degree sides
Step in
Elevated 12" basin
Elevated 5" basin
Economy tub
Ergonomically Designed Pet Wash Tubs
As the leader in animal care supplies, Direct Animal is your one-stop shop for ergonomically designed grooming tubs designed to diminish the physical strain that groomers, vets, and dog daycare owners experience all too frequently. Our grooming tub features an innovative swinging door, which is ideal for loading and turning large dogs. To access the door, simply tap your foot, and the ramp swivels out.
Our pet wash tubs are not only among the sturdiest on the market, but they also feature a free elevated grate to save your back and provide a better experience for you and your furry clients.
Find the Perfect Pet Grooming Tubs for Your Facility with Direct Animal
Our professional-grade grooming pet wash tubs and dog grooming equipment and supplies are suitable for every niche within the animal care industry. Our products are built to last and designed for easy cleaning.
Looking for the best grooming tubs, accessories, and supplies on the market? Count on Direct Animal to customize the perfect solution for your business. Contact us now for a free consultation at 877-459-7827or sales@directanimal.com.Pet