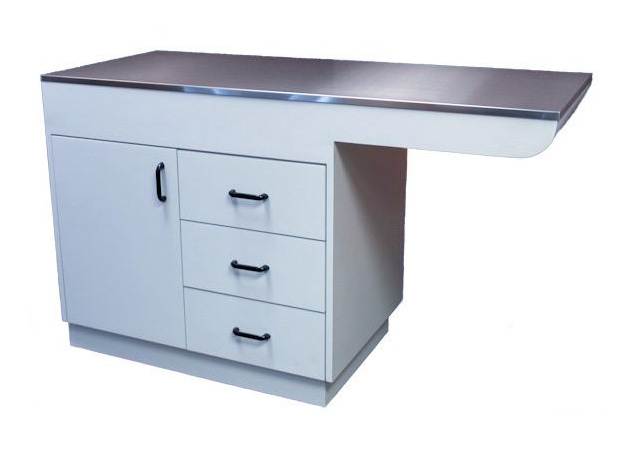 Veterinary Treatment Tables
Trust Direct Animal to help you optimize patient care and create a functional workspace in line with your aesthetics and your budget. For over two decades, Direct Animal has been a leading provider of quality veterinary treatment tables that accommodate the diverse needs of new practicing vets, modern practices and animal shelters.
Invest in a quality veterinary treatment table
Why do so many new vets, clinics and hospitals choose our veterinary treatment tables and supplies? For starters, we deliver high quality animal care supplies at a very reasonable price point. New vets trust us to design their first offices and know that their patients will be impressed by a design that conveys experience of the most established practitioners.
It is our policy to never cut corners in the design and manufacturing process of our products. We take great pride in offering heavy gauge stainless steel veterinary equipment that is built to stand the test of time.
From our fixed height island-style tables to mobile back-saving gurneys, you can get the model you need at a price you can afford. Whether you need a wet prep table with ample cabinetry or an electric treatment table that is height-adjustable, we stand by the quality of all of our products.
Ergonomic, stainless steel exam tables for budget-conscious vets
All of our veterinary treatment tables, gurneys, exam tables, tubs and prep stations are crafted in durable 16 and 18-gauge stainless steel. Moreover, our products include comfort and safety features not found in other veterinary medical equipment.
We offer a wide variety of ergonomic designs and configurations that support dental and surgical procedures. Need a smaller veterinary treatment table to accommodate space constraints? Direct Animal will customize a solution that is sure to enhance the style and efficiency of your practice. For a stable, quiet working surface to perform exams, prep for surgery or provide treatments, Direct Animal has developed a superior line of vet clinic equipment renowned for its exceptional value and workmanship.
Our inventory includes options for hydraulic lift tables, wall-mount tables or peninsular lift tables with a free-standing design. For your complete safety and satisfaction, each product is hand-welded and polished.
Inexpensive veterinary treatment table options
Our innovative designs and optional features let you achieve the look you want in your veterinary clinic, without sacrificing functionality. Consider the value of investing in American-made veterinary equipment backed by a 25-year reputation of excellence.
Direct Animal features a diverse range of vet exam tables and treatment tables to fit practices of all sizes:
Wet Prep table options: Wet Prep Cabinet with ample storage; Utility Wet Prep Tub with slope to prevent standing water; our Wet Prep Table Top optionand our Wet Prep companion faucet
Mobile veterinary treatment table options: Classic Transport Table and our Veterinary Height Adjustable Gurney
Veterinary tub options: Split Level Tub