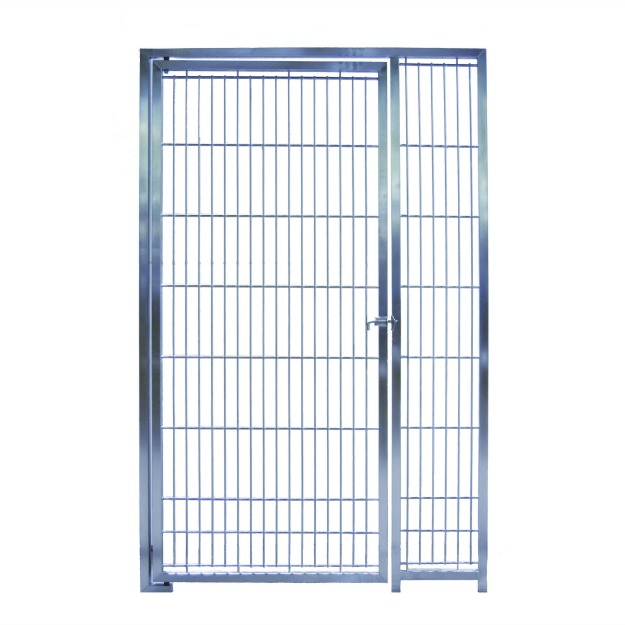 Kennel doors must be strong and durable to hold up to the largest canine, yet also aesthetically pleasing to meet the high expectations of dog owners.
At Direct Animal, we firmly believe in bringing the best commercial kennel doors to luxury boarding facilities, animal shelters, and doggy daycare centers at a budget-friendly cost. Choose from our popular line of glass doors, rod doors, and guillotine doors — all made right here in the U.S.A.
Dog Doors for Kennel Facilities, Daycares, Shelters, and More
Whether you're running a grooming business, animal shelter, or doggy daycare facility, our heavy-duty dog kennels and kennel doors provide the best solution for even the largest and most active dogs. Our professional dog kennel doors are safe, stylish, and designed to withstand the daily needs of your business.
Glass Kennel Doors
Luxury boarding kennels no longer have to choose between safety and good looks. Our beautiful commercial kennel doors feature ¼" clear tempered glass, which means you can feel confident knowing they'll hold their own against even the largest, most excitable dogs. The glass is set into 18-gauge, 304 stainless steel tubing for maximum resiliency and durability. The entire frame for the kennel door is hand-welded and polished for never-fail, seamless operation and superior alignment.
Getting the most out of limited space is nothing new at animal rescues, humane societies, and canine police facilities. Our animal care experts know that you need to utilize every square inch of space, so we include a wall angle to let you connect these fashionable kennel doors to a door jamb or sidewall. With our unique design, you can open the doors inward or outward, depending on the position of your furry occupant. And thanks to our innovative engineers, you'll never have to worry about tripping over a bottom rail.
Choose from our standard glass kennel doors or our extreme glass kennel doors. They are available in both standard and custom sizes.
Commercial Kennel Dog Doors With Rod Construction
If your veterinary practice, animal shelter, or doggie daycare needs both superior function and affordability, look no further than Direct Animal's rod kennel doors. Our commercial kennel dog doors provide peak performance for the lifetime of the facility. It's our goal to never ship the same product to the same facility twice because of a component failure, and our customers have been more than pleased with the results.
Choose from Direct Animal's economic rod kennel doors or extreme rod kennel doors. Our are 72" high and feature 3/16" vertical rods and cross bracing for additional reinforcement.
Each style features 1 1/4″ 18-gauge, 304 stainless-steel tubing designed to withstand the vigorous antics of any dog breed. Whether you're boarding a fluffy Japanese Chin or a full-grown, 160-pound Caucasian Ovcharka, you'll have complete confidence in the integrity of your commercial kennel doors.
Guillotine Dog Kennel Doors
Direct Animal's guillotine kennel doors are the ideal solution for doggie daycare providers who manage multiple kennel runs. These sturdy designs are as wide as the back panel, and they glide on a stainless steel track that we guarantee will never rust or warp.
The high-quality design of these professional dog kennel doors means you can feel confident the dogs in your care will have safe, easy access to the adjoining kennel or outdoor run.
Contact Our Sales Team Today!
Browse our downloadable for more details about our commercial kennel dog doors, indoor dog kennels, and accessories, including our convenient rotating bowl feeder. Our durable, economical kennel doors have been proudly installed in numerous luxury boarding facilities, canine police facilities, humane shelters, and veterinary practices across North America.
Contact us today for your complimentary consultation at 877-459-7827 or sales@directanimal.com.