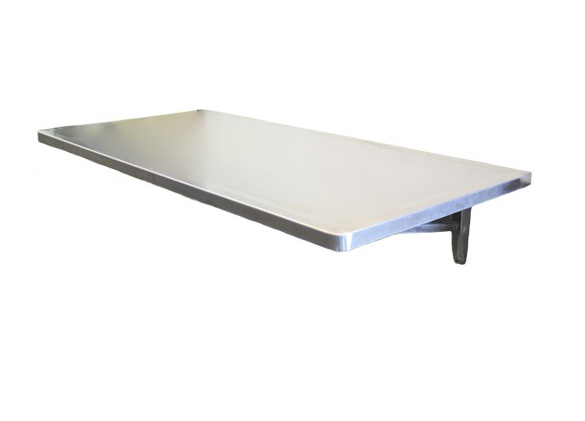 The veterinary exam table is the workhorse of every practice. It may support dozens of furry patients during the course of a typical day. Durability and sterility are must-haves. Direct Animal has spent years listening to the concerns of actively practicing veterinarians and animal shelter workers. Our solution to your everyday challenges is our exclusive line of durable, American-made veterinary exam room tables.
Veterinary Exam Table Products
Why Choose Direct Animal's Veterinary Exam Table?
There's a good reason why so many budget-conscious practices choose Direct Animal's veterinary exam room tables, and it all boils down to top-quality materials and conscientious, ergonomic construction that is designed to last. Our veterinary exam tables can be easily mounted on the wall or utility chase.
If you're looking for an ideal solution for a limited space, we invite you to browse our selection of folding wall mount exam tables made of heavy-duty stainless steel. This wallet-friendly choice is both stylish and practical.
Our economy Value Vet line may be competitively priced, but we never skimp on details. All seams and corners are hand-welded and polished to ensure the patient's comfort during exams and treatments.
Features of Our Veterinary Exam Room Tables
Here at Direct Animal, we know you have high expectations when it's time to buy a new veterinary exam table. We do too. That's why our expert design team has built in luxury features that make all of our veterinary equipment safe for your furry patients and ergonomically friendly for your staff.
Whether you need a side mount, wall mount, end-folding, or stationary veterinary exam table, you'll enjoy these convenient features:
Fully collapsible design
Spacious and stable workspace surface
Stainless steel construction supports up to 250 pounds
Backsplash to protect walls
Raised "no-drip" edges for no-nonsense sanitation
Corrosion-resistant stainless steel supports and mounting plates
Custom colors available for the laminate exam table
Your Veterinary Exam Table Choices
Direct Animal's veterinary exam room tables are affordable choices for outfitting a new practice or upgrading your current equipment. Browse our selection below:
Direct Animal's expert team of talented designers and skilled fabricators build our veterinary exam room tables to last the entire lifetime of your practice. We pride ourselves on unbeatable quality and old-fashioned customer service.  Our sister company, Tristar Vet, is focused on creating the highest quality veterinary equipment and supplies available.  Whether you order directly through Direct Animal or Tristar Vet you are getting the highest quality equipment for your veterinarian practice.
Chat with one of our friendly associates about designing a layout and choosing the right equipment for your practice.
Contact us at 877-459-7827 or sales@directanimal.com for assistance.