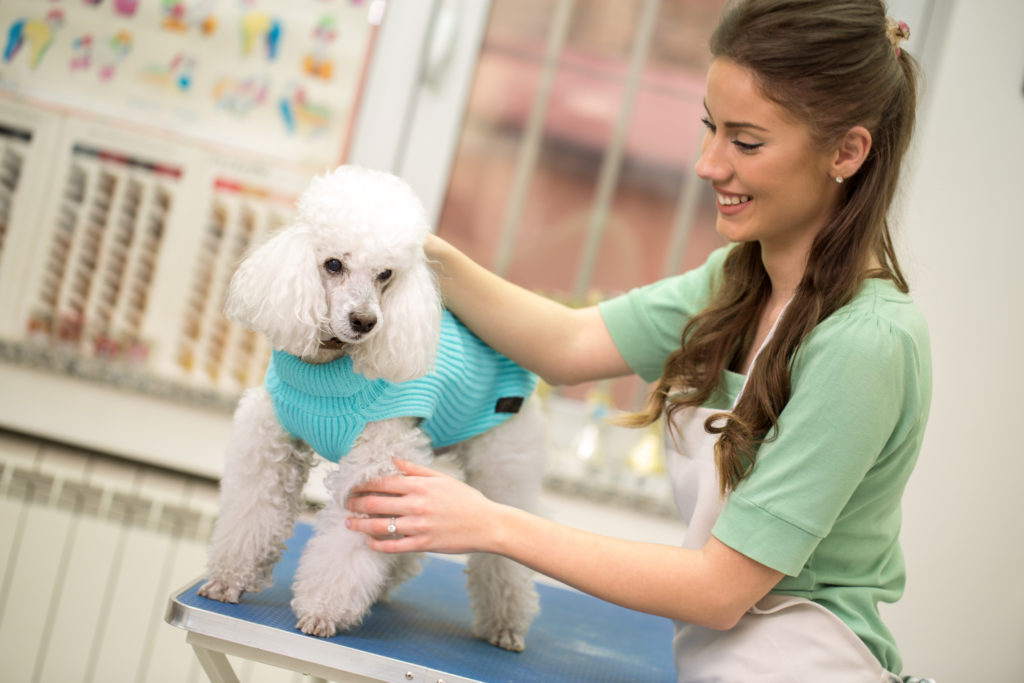 Professional Dog Grooming Equipment
Your comfort and safety are critical when it comes to bathing squirmy, playful, or even aggressive animals. That's why we invented back-saving dog-wash tubs you won't find anywhere else. Our engineers had your daily well-being in mind when we developed our pet grooming equipment, including Patented Tub, Swivel Ramp, and Hydraulic Bathing Tubs.
Professional Pet Grooming Equipment for Every Type of Facility
Our professional grooming equipment for animal care facilities not only saves your staff time and provides the most advanced ergonomic comfort, it also helps to ensure that your clients always remain comfortable and safe in your care.
When you choose Direct Animal, you won't have to worry about your grooming tub rusting after a few years or shortening the lifespan of your grooming table with daily use. All of our stainless steel equipment is specially designed to withstand heavy day-to-day use and last the lifetime of your business.
If you're dealing with limited space or searching for budget-friendly options, we'll help you find the perfect solution for your animal rescue, vet clinic, or luxury boarding facility. Our selection of animal care equipment features the best dog grooming equipment for your facility, including easy-to-install pet grooming faucets, stainless-steel grooming tubs, and more.
Professional Grooming Tubs
Featuring an innovative one-piece tub design, our pet wash tubs are leak-free and rust-free, offering easy maintenance and unrivaled durability. Manufactured with your staff and clients in mind, our deep tubs can comfortably accommodate animals of all sizes, while elevated grates save your team from heavy lifting.
Bath Tub Grates
Our bath tub grates are framed with type 304 stainless steel and elevated with ultra-durable stainless steel legs to withstand the daily needs of your facility. Our bath tub grates come in various size options, all equipped with proper drainage to keep your clients' paws away from soap, dirt, and water build-up.
Dog Grooming Tables
Manufactured with nonporous, highly durable type 304 stainless steel, our dog grooming tables will last the lifetime of your facility while looking good as new for years to come. Our superior-quality grooming tables are designed to safely support dogs of all sizes—from Saint Bernards to chihuahuas. Our electric grooming tables are also equipped with back-saving benefits, with an easily adjustable height ranging from six inches to 42 inches.
Grooming Accessories
Make bath time easier for anxious clients with one-handed grooming tub faucets or boost your flexibility with our eight-inch center pre-rinse utility faucet. Our custom shampoo racks help you stay organized, while state-of-the-art hair traps can save you plumbing disasters.
Grooming Faucets
Professional groomers love our easy-to-install, leak-proof grooming faucet and dog grooming hose for their sturdy construction and innovative designs. Vacuum breakers prevent backflow contamination, while one-handed triggers are easy to operate with soapy hands—even when you're bathing squirmy patients.
Shop Our Professional Grooming Equipment
At Direct Animal, we've spent years listening to professional groomers, veterinarians, and doggy daycare owners. We know the physical stress and high costs that come with poorly designed equipment are among the top complaints from animal professionals—and we want to change that.
When you're ready to take bath time to the next level, check out our professional dog grooming equipment. Contact us today at 877-459-7827 or sales@directanimal.com for more information about our affordable, customizable veterinary equipment solutions.