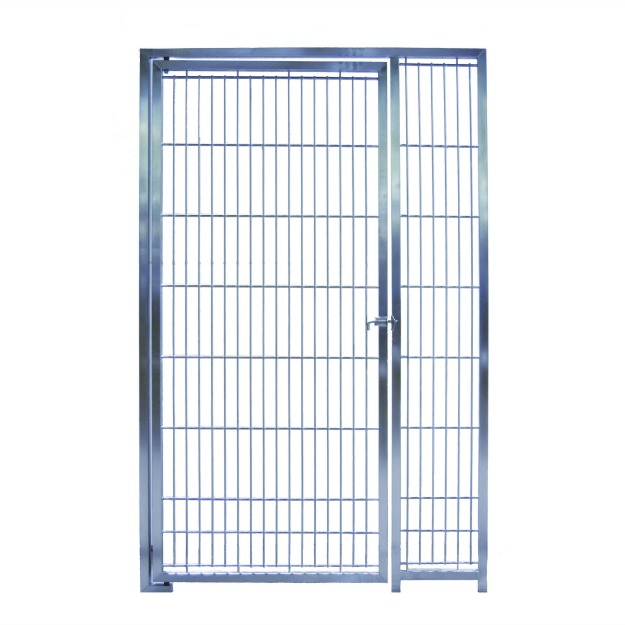 When you combine our hand welded and polished stainless steel doors with our dog kennel panels… you can count on pleasing quality that lasts a lifetime.
Open. Close. Repeat… with ease! Our dog kennel designs start with doors that perform effortlessly every day.
With each kennel door we build, we start with the heaviest stainless steel in the industry, welded for a solid, stable fit. Then we eliminate the hazardous bottom door rail so there's nothing to trap urine, dirt, feces or fur (and nothing to trip over). Finally, we provide easy one-hand operation, swinging in or out. Whatever you need to ease your busy day handling pets of varying sizes.
Choose clear tempered glass kennel doors that let you and your boarders see what's going on at all times. Our ¼" tempered glass doors reduce noise and provide an open luxurious atmosphere sure to impress your customers. Also available with pattern glass to provide a little privacy without losing the open boarding look and feel.
Or, choose our stainless steel kennel doors — the classic, highly durable grid pattern crafted with ¼" stainless rods welded at each intersection prevent shifting or rattling over years and years of use. Plus, our kennel doors are fully welded at the bottom so urine can't get inside the frame and dry, leaving you stuck with a smell you can't get rid of.
Our Guillotine dog kennel doors offer another option for quick, ergonomic pet handling.
For the safest, easiest feeding approach, add our 360-degree rotating stainless bowl feeder to any kennel door style. Its self-closing spring latch design saves steps.
Need help choosing the ideal door for your dog kennel design?