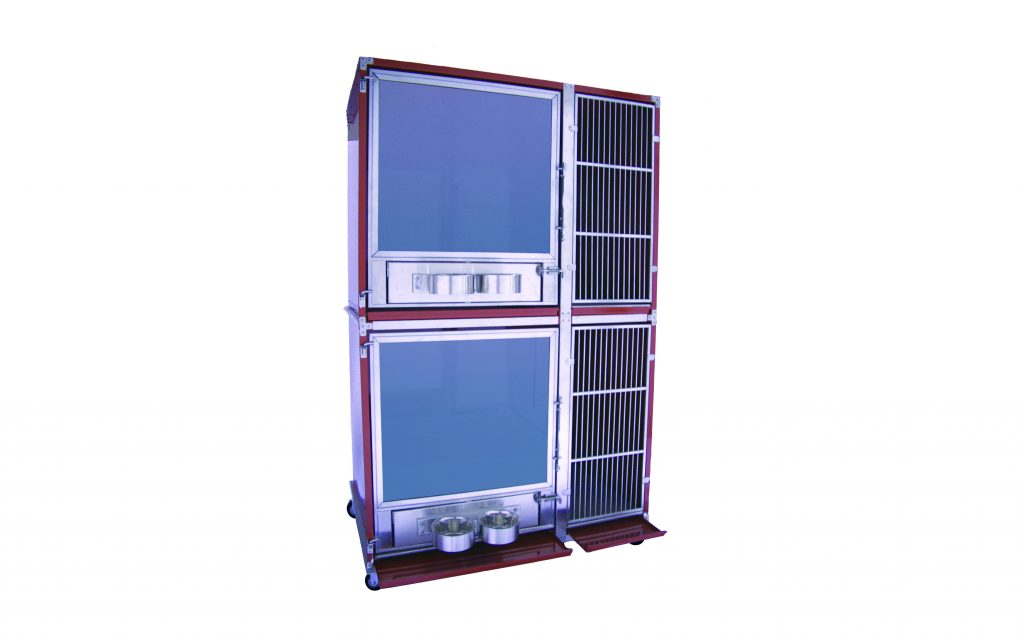 In sleek stainless steel or powder-coated colors to match your décor, our double stack dog kennel designs offer maximum efficiency and ergonomics.
Our engineers have thought of everything to make your daily chores easier and safer when handling dogs in your care. For instance, you can feed them and clean their waste without removing them from their cages.
Product features include:
Overall Double Stack Kennel Dimension: 48″W x 77.5″H x 34″D
Dog kennel panels are constructed of hand-polished stainless steel with optional powder coating to match your décor
304 stainless steel kennel door frame stands up to daily use by dogs of all types
1/4″ clear tempered glass provides strength while letting you see how your dogs are doing
Rotating bowl feeder makes it super-easy to fill food and water bowls in the kennel door, then swing them back in for the pet's access
HDPE Raised Flooring keeps pet dry at all times (fluids drain below)
Removable waste tray makes cleaning a breeze, without disturbing the dog
Slam latch gives you one-handed closing; especially helpful when holding pets!
Locking casters give you flexibility to move the kennels when needed
Ready to make the most of your kennel floor plans with double stack dog kennel designs?
Contact us at 877-459-7827 or sales@directanimal.com for assistance.
Choose high-quality double-stack kennels for your business
Our specialty at Direct Animal is designing and building high-quality, customizable equipment for luxury pet resorts, animal shelters, veterinary clinics and other pet business owners. When it comes to choosing commercial double stacked kennels for your practice or business, we can help you create a customized floor plan that will increases your team's productivity, and make for an overall safer and more sanitary environment.
Making your job easier
Each of our double stack kennels offer a variety of features that will make all the difference in your work flow. Rotating bowl feeders allow you to easily fill food and water bowls without having to unlock cages and risk animals getting loose. Slam latches also make it easy to confidently close and secure cages when your hands your full, which is quite often in the pet industry.
Making your space cleaner
Things can get messy when you're working with animals, which is why all of our equipment is designed to keep things as clean as possible. Employees and animals will both love the raised floors with removable trays that separate pets from their waste. This design makes for easy, quick cleaning that doesn't require removing dogs or cats from their kennel.
Making your space beautiful
Stylish design can make all the difference for your customer-facing pet business. Our commercial double stacked kennels come in more than 100 powder-coated color options or a sleek stainless steel finish. You will also love the 1/4" clear tempered glass that keeps the pet secure while keeping them easily visible to customers and employees. Locking casters also give you extra flexibility in your floor plan, allowing you to mobilize your cages for special events or other needs.
Making products that last a lifetime
One of the best features of a Direct Animal Double Stack Kennel is that they last a lifetime. Each kennel is smartly designed using 304 stainless steel that can withstand decades of heavy use.
Call us today for your free, personal consultation and see how our affordable, high-quality double stack kennels can fit into your space and budget.