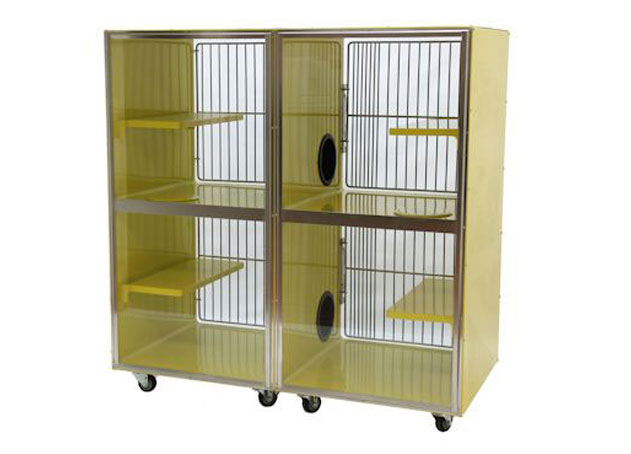 Cat Condos Powder Coated Double Stack
Our stacked cat condos combine sturdy, easy-clean steel with 100+ cheery powder-coated color options — a great solution because they're colorful, sanitary and most importantly, will hold up for many years.
You don't have to sacrifice quality when looking for welcoming, friendly cat house and condo units that create an appealing adoption area.
Call us for more information 877.459.7827
Cat lovers will see how happy your shelter kitties are, perched on their own resting shelves and using pass-thru openings for exploring and companionship. All our units come with these extras:
Generous enclosures (inside dimensions) 27"W x 26"H x 29"D
Sturdy stainless steel doors will not sag — we promise
More than 100 color options in an attractive, lasting powder-coated finish
Side pass-thru portal provides side to side cat condo exploration
Floor pass-thru portal allows up and down movement within cat condo, which cats love!
Urine retaining lip helps prevent fluids from leaking into surrounding areas
1/4" Tempered glass back
4" double ball bearing wheels that lock securely in place
Just let us know which color works for your facility!
POWDERCOAT COLORS
(Over 100 Colors Available)
Direct Animal offers top-tier quality products affordable prices for animal caregivers and rescuers who need to stay competitive.