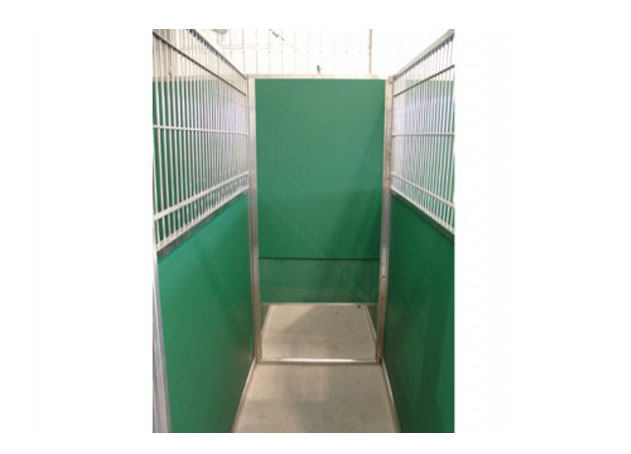 Is it possible to easily transfer large, energetic dogs in multiple kennel runs? Yes! With our specially designed guillotine door, Direct Animal has solved one of the biggest challenges of any kennel, boarding, animal shelter, and animal control facility. Our strong and durable veterinary equipment makes life easier for doggie daycare providers who must manage many boisterous dogs in multiple kennel runs.
Our Guillotine Dog Doors Control Access the Easy Way
Our safe, smooth, and durable guillotine kennel doors were developed by master craftsman and created from high-quality materials to provide your staff and your animals with an exceptional experience. When you choose our guillotine door for your back-to-back dog kennel design, you can enjoy the peace of mind that the following features offer:
The door runs the width of the back panel and slides inside a stainless steel track. Unlike inferior quality materials, the stainless steel track on our guillotine door will never warp or rust.
The unique guillotine door design ensures easy and safe access to the adjoining kennel or outdoor runs, without having the dog enter the kennel run.
The Direct Animal guillotine door features a unique counterbalance system that makes the dog door easy to elevate and lower. You'll never again see a dog cringe when an inferior door slams down to the ground!
Each door is made of HDPE, an FDA-approved material that's resistant to chemicals, abrasion, moisture, stains, and odor. Our guillotine dog doors are built to last for years to come, so you can feel confident with your investment.
Our guillotine kennel doors have incredible high-impact strength. They are built to withstand the daily pounding of active dogs of all sizes. Whether you're housing a teacup poodle or a mastiff, you can trust our guillotine dog doors are up to the challenge.
Upgrade To Guillotine Kennel Doors Today
The guillotine dog doors available from Direct Animal are just one of our many doggie daycare innovations designed to make life easier for professionals who handle animals. From raised and stacked kennels to luxury kennels, we've got a solution for every need. Speak with our design experts today for personalized guidance on outfitting your practice.
To get complete details on how we can install guillotine doors in your facility…
Contact us at 877-459-7827 or sales@directanimal.com for assistance.