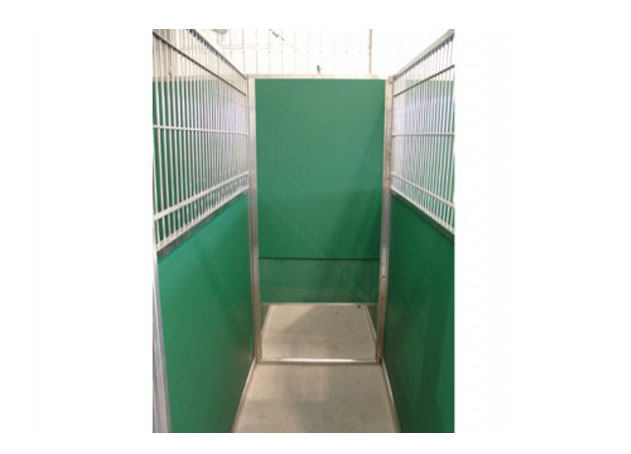 Yes, we've solved one of the biggest challenges of any kennel, boarding, animal shelter and animal control facility: how to easily transfer boisterous dogs in multiple kennel runs.
 Control doggie access the easy way with our safe, smooth, durable (and beautiful!) guillotine dog kennel doors. Our Guillotine Dog Kennel Door provides the following benefits for your back-to-back dog kennel design.
The door runs the width of the back panel and slides inside a stainless steel track that never warps or rusts.
This ensures easy and safe access to the adjoining kennel or outdoor runs without having to enter the kennel run.
It features a unique counter balance system that makes the dog door easy to raise and close — never slamming down to the ground.
Each door is made of HDPE, an FDA approved material that's resistant to chemicals, abrasion, moisture, stains and odor.
Plus it has high impact strength for the daily pounding of active dogs of all sizes.
The guillotine door is offered in all of our Starlite (high density polyethylene) back kennel panels. A side-to-side guillotine door option is also available, creating an extra large kennel enclosure if needed.
To get complete details on how we can install Guillotine Dog Kennel Doors in your facility…
Contact us at 877-459-7827 or sales@directanimal.com for assistance.