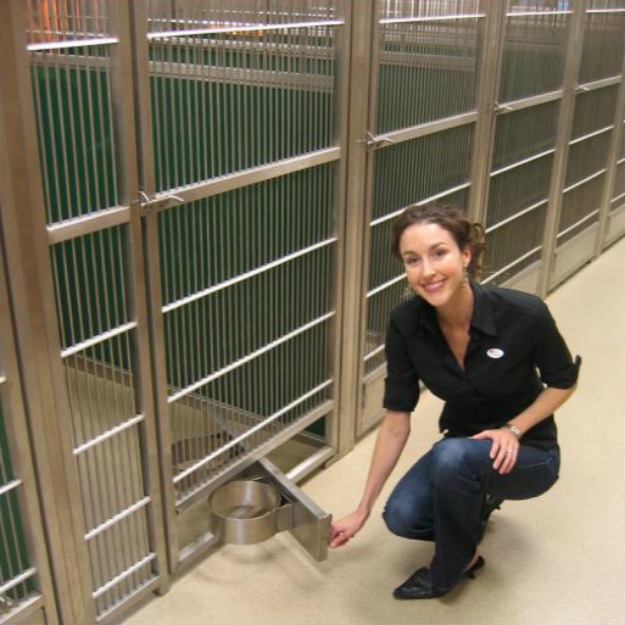 Direct Animal's dog kennel accessories are the perfect way to complement your streamlined kennel layout. Each of our kennel accessories was designed after listening closely to the needs of staff at doggie daycare centers, boarding facilities, training centers, and pet groomers. Support your busy team with our ergonomic dog kennel accessories, built to make animal care easier than ever!
Rotating Bowl Feeder
Look forward to no more mess or fuss with Direct Animal's rotating bowl feeder! It installs directly on the bottom of the kennel door, mounted to a durable stainless steel panel that rotates 360 degrees. This allows both staff and dog easy access to the food and water bowls, without having to open up the door.
Dog Kennel Resting Bench
Every pup needs a comfy place to plop down and snooze. These popular dog kennel accessories are built with a stainless steel frame and a hinge construction, allowing staff to easily swing the bench up to clean the kennel. They are also available in Starlite colors to match your kennel panels.
Kennel Trough Covers
No kennel is complete without one of our trough covers. These kennel accessories swing up on a convenient "Z-clip" to allow for easy cleaning. When ordering, please specify whether you want stainless steel or a Starlite color to match your panels.
Dog Kennel Card Holders
Doggie daycare providers and boarding facilities must juggle lots of pets at once. Keep track of your furry clients and their care needs with our kennel card holders. These dog kennel accessories attach to any kennel or cage door. Built of sturdy stainless steel, they're available in the following sizes: 5X7, 3X5, 5X7 (side mount).
Dog Kennel Prep Table
Your staff needs a designated space to prep each pup's food. Our dog kennel prep table is an ergonomic solution with a raised marine edge to prevent spills and a backsplash to protect the wall from water damage. Plus, the stainless steel makes it easy to keep clean!
Dog Kennel Utility Faucet
Add our handy utility faucet to your kennel prep table. It's an 8" center, pre-rinse faucet that features a convenient wall/deck mount bracket.
Dog Kennel Cover
Your collection of dog kennel accessories isn't complete without a cover for each kennel. These resilient stainless steel covers will keep furry "escape artists" safely inside the kennel.
Dog Kennel Accessories for Vets, Animal Shelters and More!
Direct Animal's mission is to make life easier for veterinarians, doggie daycare providers, and animal shelter workers by streamlining kennel designs, improving durability, and making all of our products ergonomically friendly. Learn more about our dog kennel accessories by chatting with our sales team. We'll help you choose the right configuration, styles, and sizes for your new kennel accessories.
Contact us at 877-459-7827 or sales@directanimal.com for assistance.