Stainless steel is the number one choice for equipment used at many dog groomers, doggie daycares and even dog and cat boarding facilities and shelters… because Type 304 quality stainless steel lasts and lasts for decades.
But with daily use, handling all kinds of animals and messes… how do you keep your equipment looking great at all times?
Keeping your stainless steel dog grooming tables and other equipment super shiny is much easier than you think — IF you know this Direct Animal Products' secret.
Sanitation and safety are the most important aspects of keeping your stainless steel equipment clean, but you also want to enjoy that gorgeous sheen that only stainless steel can provide.
We can help you do both, and it's super simple.
Let's start with sanitation and safety.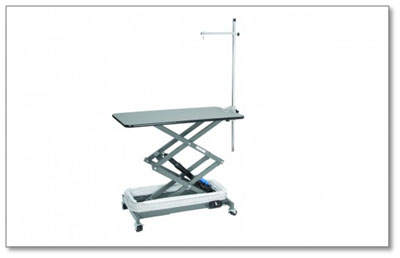 The great news is, stainless steel isn't porous, so it can't absorb harmful chemicals, pet urine, disease-carrying fecal matter or other substances. Therefore, all you need to do is wipe away anything that's not sanitary or safe for you, your team or the pets in your care.
For general daily care, if you have equipment built with Type 304 stainless steel, you can kill Parvovirus or any contaminant with diluted bleach in a 30 to 1 formula (30 parts water to 1 part bleach). That's all you need. By the way, ALL Direct Animal stainless steel products — including dog grooming tubs, kennels, cages and dog grooming tables — are made with Type 304 stainless steel because it's the most durable.
(CAUTION: Although stainless is pretty durable, some harsh chemicals such as acetone should be avoided. And, if you have stainless equipment but it's not Type 304 stainless steel — please check with your equipment manufacturer. Chemicals can permanently harm the finish of less durable stainless steel.)
Now here's our secret to maintaining a beautiful finish at all times.
Ready? Here it is (drum roll, please): polish it with lemon oil. That's it! Simply spray regular lemon oil on a clean rag and then wipe the finish until it's dry. Do this every few days. Then, whenever you want to remove fingerprints, just wipe the surface with a dry cloth.
If you consistently follow this simple approach, you'll keep your stainless steel equipment shiny, with that beautiful luster, as long as you own it.
How easy is that? You don't need a fussy procedure or expensive cleaning solutions. Just bleach and lemon oil… applied as needed.
If you have questions about stainless steel dog grooming tables and tubs, kennels or other equipment for your facility, contact us for assistance. Call us at 877.459.7827 or email sales@directanimal.com.
Other Questions? Comments? Please add a comment below. Thank you.