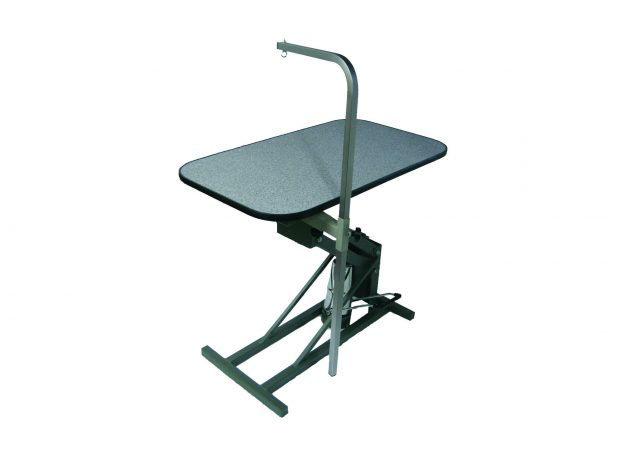 The pet grooming tables available from Direct Animal Products are built to last! Our professional dog grooming tables are the products of years of design expertise and a commitment to using only top-quality materials.
Our uncompromising approach to high-quality pet grooming tables
Our approach starts with the best available material: Type 304 stainless steel. Stainless steel is essential for professional groomers, luxury boarding facilities, animal shelters and doggie daycare because its nonporous surface doesn't trap germs. It's also highly durable. Decades from now, your new pet grooming tables will look and function exactly as they did when you invested in them. Our heavy-gauge steel is designed to safely support dogs ranging in size from teacup poodles to Great Danes. The finish is a dark gray, baked-powder epoxy that will never corrode or chip.
Given the superior materials and craftsmanship that go into our professional grooming tables, it's no surprise that we stand behind our products 100%. Let us know if there's ever a problem, and we'll be happy to address it for you.
Save your back with our professional dog grooming tables
Direct Animal emphasizes the importance of good ergonomics. Pet care is a rewarding profession, but it can wreak havoc on your orthopedic wellness. Invest in our professional dog grooming tables for your business, and you'll never have to worry about throwing out your back while wrestling a huge mastiff onto a high table.
Our Electric Lowboy Grooming Table is height-adjustable from six inches to 42 inches.
Our professional grooming tables put the focus on safety
Groomers love it when their furry clients stay still during their appointments, but not every pet is willing to cooperate! Direct Animal's professional grooming tables have numerous built-in features to ensure the groomer's convenience and the pet's safety. Even the most excitable or anxious pet has met his or her match with our built-in post, clamp, top, and bellows cover. Plus, the super heavy-duty electric jackscrew is operated with a foot switch, so you can keep your hands on the pet at all times for added peace of mind. We've specially engineered the electric jackscrew components to operate smoothly and quietly to keep animals feeling calm and secure during each height adjustment.
Throughout our decades of serving pet groomers, veterinarians, doggie daycare providers, luxury pet boarding facilities, animal shelters, humane societies, animal rescue groups and more, we've learned a thing or two about the challenges of pet care and what our clients need to improve their businesses.
Contact us at 877-459-7827 or sales@directanimal.com for assistance.