Grooming tubs need to be strong, durable, and easy to clean. Because of those requirements, the best type of metal for a grooming tub is 18-gauge type 304 stainless steel. This type of metal is strong enough to hold up to the demands of even the largest and most active of dogs. Plus, it enables professional dog groomers to maintain a sterile environment for their furry clientele.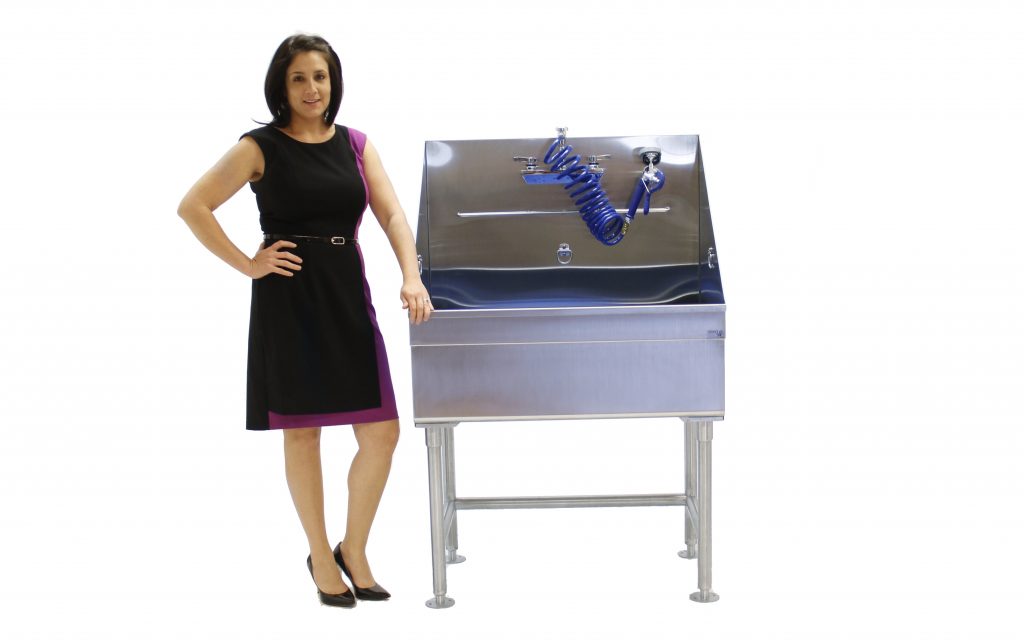 Get the facts on stainless steel
Different grades and types of stainless steel are used in all sorts of industries. You will find it in the automotive, construction, and medical fields, and of course, it's the material of choice for veterinary practices and pet groomers. Of the more than 150 grades of stainless steel, the 18-gauge type 304 material is known for having superior strength and endurance.
The 18-gauge type 304 stainless steel material, which is part of the 300 series designation, includes 8 percent nickel and 18 percent chromium in its formulation. This formulation is known for being highly responsive to fabrication and welding, enabling companies like Direct Animal to craft exceptional grooming tubs from it. This particular type of stainless steel is not magnetic.
Why Direct Animal uses 18-gauge stainless steel for grooming tubs
Professional grooming tubs are exposed to a considerable amount of water each day. This means that if they are made from inferior materials, they would be highly susceptible to corrosion and rusting. One of the reasons why Direct Animal chooses 18-gauge type 304 stainless steel is because its chromium content wards off corrosion and rust. The result is an exceptionally high-quality tub that will last for the life of your practice.
In addition, this type of stainless steel is rugged enough to withstand impacts and is easy to clean. This last benefit is particularly advantageous for groomers, as the welfare of the dogs under their care is a top priority.
Direct Animal is proud to use 18-gauge type 304 stainless steel in our professional grooming tub products. Our thoughtfully designed and fully welded tubs are ergonomically friendly. Groomers choose Direct Animal's tubs because they will last the life of the practice and they are made right here in the U.S.A. Get in touch with our team today for assistance designing your ideal layout.
Call us at 877.459.7827 or email us at sales@directanimal.com for assistance.