We assume you love grooming dogs — you enjoy the satisfaction of transforming shaggy pups into their "best selves" and delighting your customers. The transformations are extremely gratifying!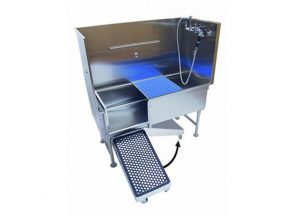 What isn't fun about your work? The daily physical strain of bathing dogs of all sizes, types and temperaments. We know this because we've seen the struggles first-hand over the years as we've visited dog groomers, veterinary clinics and other pet-care facilities.
That's why today, our Direct Animal dog grooming tubs include exclusive, custom-engineered features that minimize your strain while protecting your team and the pets in your care.
If you could wave a magic wand and design the perfect dog bath tub for your business, what would it include? Perhaps we can help you picture the ideal tub by listing the 9 unique design features we offer:
Never lift dogs again! Go with or handy step-up ramps: With the simple foot-propelled ramp in our patented swivel ramp design, you can help all dogs easily step up into the tub. Designed to swivel to the left or right. We also offer a removable ramp.
The most durable stainless steel construction in the industry: Our patented dog grooming tubs are built with heavy-duty 16-gauge type 304 stainless steel in a leak-free, fully welded one-piece design and reinforced underframe. Choose from a variety of styles including step-in tubs, elevated basin tubs and more.
Choose the smooth route with our hydraulic tub: No ramp needed — dogs stroll into our electric hydraulic dog grooming tub and then you can raise them smoothly and quietly to a comfortable bathing height (floor height from 8" off the ground to 42" high).
The largest professional dog grooming tub available: Choose our standard 48″ wide tub or select a generous 60″ size. We also offer an extra-wide tub opening on some models. Now, even big dogs can move around comfortably as needed.
High backsplash: You can also opt for our high backsplash, protecting your walls from daily splashes and long-term water damage.
Grates that are truly great: Industrial-strength 304 type stainless steel grates relieve stress by keeping dogs' feet away from soap, water, dirt, hair and more.
Built-in security with sturdy restraints: Our tubs include a tie-down rail located on the backsplash and heavy-duty tie-down rings to secure each animal in your care.
Custom sizes: If you're working with an odd-shaped space or other challenge, we can help you solve it and find the perfect grooming tub solution.
There's even more to explore! Contact us to discuss the perfect combination for you. Call us at 877.459.7827 or email sales@directanimal.com.
Other Questions? Comments? Please add a comment below. Thank you.