At Direct Animal Products, we're always looking for ways to help the professionals who run dog grooming businesses, dog daycares, boarding facilities, shelters and other types of dog-care facilities.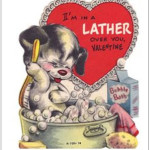 Your success is our mission as we design and manufacture durable, back saving and lifetime-lasting professional dog grooming/boarding equipment such as our patented dog bath tubs with swivel ramp, electric adjustable grooming table, stainless steel cages and more.
But we also want to help you find other ways to thrive as a business owner. That's why this post is devoted to Valentine's Day and how you can capture the hearts of your customers so they keep coming back to you/.
Here are 5 ways to keep your dog-business customers loyal by showing them extra love with special Valentine-themed treats.
It's true that small demonstrations of appreciation can go a long way when it comes to customer loyalty.
That's why Valentine's Day is a perfect time to shower your grooming, daycare and/or boarding customers with love.
Try these ideas to make a sweet impression (and bring in repeat business and new appointments!)
Valentine's Day Greeting Card with Special Coupon: Present all customers with a Happy Valentine's Day greeting card that includes a coupon good for $5 off the next bath, daycare booking or boarding visit. You can also do this via a "virtual" email greeting and coupon, and send it to your entire customer email list.
Heart-Shaped Dog Cookies in a Red Wrapper: Give each customer a special gift of healthy dog treats wrapped in red cellophane. And, to reach as many customers as possible, consider doing this for the rest of February. To find healthy dog cookies, partner with a local dog bakery or make your own dog cookies if you enjoy baking. (Pinterest has some fantastic recipes)
Valentine Rewards Punch Card: Customers love FREE, so why not offer a Buy 5, Get 1 Free punch card where customers get a free bath, daycare day or boarding visit. If free is too much for you to give away, make it a Buy 5, Get 50% Off the 6th or a Buy 5, Get $5 Off the 6th. Anything that gives loyal customers an extra incentive to keep coming back.
Heart Bandana with a Coupon: This is the time to make Max or Trixie look extra-lovely after a fresh bath or grooming visit. Adorn all the dogs in your care with a heart-theme-printed bandana around their necks, and hand out a coupon or punch card when customers pick up their pets.
Sweetheart Photos on Facebook and/or Pinterest: For the rest of the month, post photos of the pets in your care with "We love [pet name]". Customers will be delighted to see their pets on Facebook and most will share the posts. This means all their dog-loving friends will see your posts, too (potential new customers for you!). Just make sure your customers "Like" your Facebook and Pinterest pages.
Do you have other ideas or suggestions on how to tug at the heartstrings of your customers through Valentine's Day promotions, so they'll love you all year round? We'd love to hear it. Post a comment below.
Or, if you'd like to talk with us about our dog grooming, daycare and boarding equipment, call us at 877.459.7827 or email sales@directanimal.com.
Other Questions? Comments? Please add a comment below. Thank you.