When we talk with folks at dog boarding facilities, animal shelters, animal control centers, veterinary practices and other pet-care locations, we find that many of them struggle with a common enemy: dog urine.
Specifically, dog urine is getting trapped underneath kennel panels… or even ruining the panel walls over a fairly short time. It's extremely frustrating because when urine has a chance to linger, the odor and equipment deterioration can become unbearable. Not to mention costly.
Our Direct Animal engineers have solved this problem with urine-defying dog kennel designs that work in every facility; even those with uneven floors, awkward spaces, and limited budgets.
Here are two specific ways our Direct Extreme Dog Kennel System helps you eliminate dog urine issues.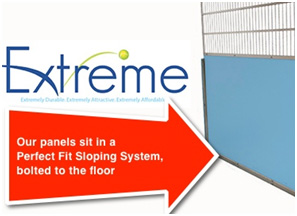 1. Our beautiful Starlite panels attach to any floor, using a stainless steel barrier against urine and other unwanted materials.
When you have an imperfect floor with a minor slope here and there, you need something that still runs square with the floor so urine can't leak through. That's why we slide our Starlite panels into our Perfect-Fit Sloping System: 100% heavy duty stainless steel frames we literally bolt down to the floor, creating a steel barrier that never allows urine to seep through. Hand welding ensures that the stainless frames will never crack or shift.
Other companies use aluminum panel rims (less reliable than stainless), and they don't get attached to the floor; they simply rest on the floor with rubber gaskets that can't accommodate imperfect floor slopes. Thus, the urine can certainly escape wherever there's a gap. Yuck!
2. Our solid Starlite kennel panels are made entirely of 0.40" HDPE (high density polyethylene)
Why does this matter? Starlite panels are FDA-approved to resist moisture, stains, odors and scratches, and stand up to tough cleaning chemicals. Each panels is one solid piece that lasts and lasts, so it's the perfect kennel odor eliminator.
In contrast, other dog kennel companies use flimsy laminated material that's glued to wafer board. Over time, the panels give and move and eventually become de-laminated after repeated exposure to harsh cleaning solutions and dog urine. Once that starts happening; the core is increasingly saturated with urine, feces, bacteria and odor — downright unpleasant and expensive to replace!
Best of all, our Extreme Dog Kennel System comes in custom sizes to fit in any luxury pet boarding facilities, doggy day cares, animal control, rescues, shelters and veterinary hospitals.
Tell us about your efforts to eliminate kennel odor. We'd love to help solve this for you! Thank you.