Choosing a cat condo (or set of cat condos) for your shelter or boarding facility can be daunting. After all, you have numerous choices from many different companies — all trying you to convince you why they offer the best solutions.
As you weed through all the choices and try to choose a quality, lasting product for your needs, it can be tricky without a roadmap to help you consider which features are important… and which are not.
What matters most when choosing the purr-fect cat condo products for the needs of your staff and the cats in your care? Once you have a solid checklist, you can make an informed and easy decision.
That's why came up with the following 5-point checklist.
Use this guide to weigh your many options and find the best cat condo for your facility, so you can enjoy complete satisfaction for years to come.
1. Durability.
When looking at cat condo options, find out how they're built. For instance, we build our Direct Animal cat condos with the strongest stainless steel, fully welded in a one-piece vertical design for lasting stability. This ensures that our cat house and condo designs last for decades of use with hundreds or even thousands of cats, while continuing to look brand new.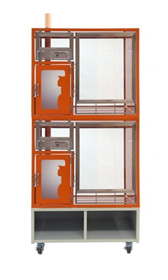 2. Flexibility.
Is your cat-shelter room large, narrow, tall, roomy or snug? A cat condo company should offer you many options and even custom configurations, as we do. Our cat condos come in single, double or triple stacked boarding options for your space — to provide tall cat condos, wide cat condos… whatever you need. And, all our units are on rolling casters that lock into place, giving you the ultimate flexibility. Plus you can choose from a classic stainless steel finish or 100 color options, and even stylish custom cut-out designs as seen here.
3. Practicality.
How much does the cat condo company offer in terms of easy maintenance, cleaning and sanitation? These are critical factors for daily cat care. For instance, we offer unique and wonderful benefits no other our cat condos offer: 1) urine-retaining front edges and fluid-retaining vertical portals that prevent dripping into lower units, 2) a separate kitty litter section that keeps the living area clean, and 3) our perforated PVC ventilation tube design that eliminates bad air for the healthiest environment. Plus, our unique slam-latch makes one-handed door closure easy, which is especially helpful when your hands are busy with kitties!
4. "Cat-ability"
Gosh, let's not forget the cats and their happiness! When you look at various cat condos, you'll be considering the way they offer cats an adventurous, varying experience. Our horizontal and vertical portals open and close to promote a fun range of kitty opportunities to perch, snooze, climb, "survey the landscape" and more… all in comfort.
5. Affordability.
When you consider that your cat condos are an investment for many years to come, perhaps even the lifetime of your facility, you'll want to look for lasting quality, backed by a company you can count on. Ask each company about their quality guarantee.
6. BONUS: Convenient installation
Do the various cat condo companies require assembly when you receive their products? We don't. We ship our cat condos fully assembled on wheels/casters for instant, easy use.
There you have it — a 5-point checklist (plus bonus) to help you choose the best cat condos. Questions? Comments? Please add a comment below. Thank you.