"What can we do to help improve our cat adoption rates?" That's a question we get a lot here at Direct Animal Products. We talk with shelter managers and other adoption facility managers all the time, because we're always looking to offer cat condo innovations that support adoption.
What do we mean by "cat condo innovations that support adoption?" Well, a lot of shelters use standard cages or stainless cat condos for intakes that maybe haven't received their shots yet… or cats recovering from spays or neuters, or cats being evaluated for temperament, etc.
But when it's time for adoption, the best cat condo is attractive and highly functional — demonstrating that the cat is vetted, healthy, and well behaved. In other words, very adoptable!
Let's see what this can mean to your facility.
Once your team feels a cat is domesticated and healthy enough for adoption, ideally you'll move him or her into a pleasant adoption area where potential pet parents can see this lovely kitty in a happy environment. It's time to showcase the kitty as a potential pet so it's adopted as quickly as possible, yes?
That's why our designers have worked with shelter teams to design our latest innovation: the colorful, feature-packed cat adoption condo. [Need link to this]
This beautiful, clean and practical presentation tells prospective cat owners, "This animal has been well taken care of and it's safe to introduce him/her to my home and my other animals."
Here's why this multi-functional style is the best cat condo for your adoption facility.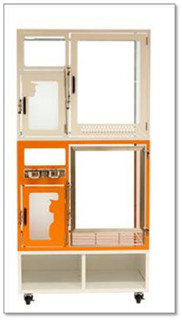 The beautiful, durable finish will stand up to years of repeated use: We start with the toughest material available — hand-welded heavy-gauge steel — and finish it with a tough yet gorgeous powder coating. There's no laminate here! This means the floors, doors, and sides won't warp or smell like urine. You can count on excellent performance for many years.
Glass doors showcase your adoptable kitties. Pet parents can see the animals through a glass window/wall (front and back, depending on your facility layout), and your staff can easily access the animals from inside a room.
Cats can do their business in a sanitary, private litter area. This is a great feature for the animals and for your team! We designed a guillotine door system that can be left open so the cat can access a separate litter box anytime. The guillotine mechanism is operated from the outside of the cat condo, so your team can easily shut it while the animal handles potty business… or while cleaning or wiping down the cage. And, you don't have to remove the cat for litter cleaning.
Speaking of litter privacy… our frosted glass door hides the kitty litter area, giving cats privacy while they handle their business. You can choose from 4 different, adorable cat silhouette designs.
Even more privacy, when needed: We added a built-in resting shelf, above the private, frosted glass litter area, giving cats a peaceful place to perch
With our swivel bowl feeder option, you can safely provide food and water from outside the condo — without disrupting animals and/or having them try to jump out of the cage while your hands are full.
Need mobility to move the condos around? Our optional mobile base with locking casters makes the unit easy to move around, securely lock in place and provide extra storage at the base to keep kitty litter, cat food, and other supplies within reach.
Your team, and your adoptable cats, can breathe easy. Our design includes perforated doors along with air space around the doors for ventilation, Plus, we offer a ventilation option to capture and remove odors and aid in air exchange (shown at right). This inventive solution provides a release to fresh air outdoors, which is great for everyone!
Modular means flexible! You choose the configuration of condos based on your space and needs.
You can choose a color to match your facility's décor. Select from bright, trendy colors or timeless, soothing shades. You can even mix and match different shades, as we've done with the model shown above. Or, you can go with one color, as we've done in our trendy lime green model shown below. This model features an adorable "fish bowl" accent as well.
Ready to increase adoption rates with help from the best cat condo for your facility? Contact us for a free consultation: call us at 877.459.7827 or email sales@directanimal.com.
Other thoughts? Please add a comment below. Thank you.