If you're managing a dog boarding/grooming business, animal shelter or other pet-related organization, you know that safe pet-handling is a top concern.
We know this too. We've spoken with hundreds of pet professionals about ways to maintain a safe environment for staff, customers and animals — minimizing or eliminating the potential for dog bites, pinched fingers, cat scratches, "escape artists," trips, falls and trapped pet waste.
So, how do you compare kennel designs? What should you look for when shopping for the safest solutions?
Consider these 4 questions to determine what makes dog kennel designs truly safe for your facility and the pets in your care.
Everyone talks about their kennel designs being safe, but are they showing you exactly WHY they're safe?
When you ask the following five questions, you'll understand which factors affect the safety of people and pets in your facility. Then you can feel great about investing in the safest solutions available.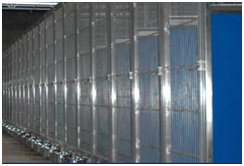 Safety problems are the last worry you want to deal with in your pet facility. Our team understands, which is why we developed these safety features (and others!) in all our dog kennel designs.
Questions? Comments? Please contact us at 877.459.7827 or sales@directanimal.com. Thank you.