Colorful Dog Kennel Designs Bring Cheer to Boarding, Shelters
If you think dog kennels have to be sterile-looking and seriously dull, we have a surprise for you. You can easily bring a bright and cheery feel into your boarding facility or shelter with today's colorful dog kennel panels. Color can make your team happier, your clients happier… and who knows? The pets might even be happier.
Perhaps you'd like to have kennels that complement your facility's logo or décor. Or you're simply ready to go from drab to delightful. Now you have oodles of options in dog kennel designs and configurations to add a pop of color in all the right places.
See how you can add a pleasing punch to your facility with the 6 color options in our Starlite dog kennel panels.
First, you need to know that Starlite dog kennel panels are made of HDPE (high density polyethylene). This FDA-approved material resists moisture, stains, odors and scratches and stands up to tough cleaning chemicals.
Second, our Starlite panels are framed in heavy-duty TYPE 304 stainless steel for long lasting performance. Our engineers have made sure that Starlite panels are just as strong and sturdy as our 100% stainless steel panels. Big dogs and scaredy cats are no problem for Starlite.
Now for the really fun part. With 6 attractive Starlite panel colors to choose from… you can order bright, cheery and fun dog kennel designs that work perfectly in your facility. This includes our classic kennels, raised kennels and even our dog play room dividers.
Now the only decision left is which color should you choose selecting from the following choices (shown in this image, left to right).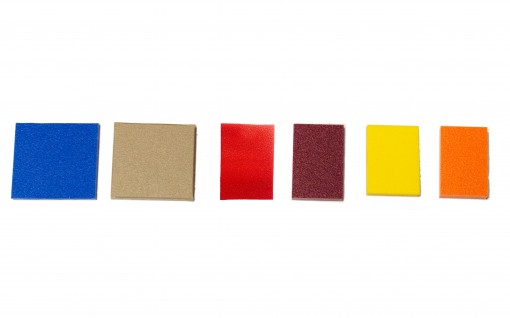 Blue
Clay
Red
Maroon
Orange
Yellow
We also invite you to see our Custom Gallery of dog kennel panels and floor plans for more ideas.
Questions? Comments? Please add a comment below. Thank you.
We are experts in kennel design and manufacturing, committed to quality control and testing. We actively seek out and test the best materials that will promote durability and longevity with the added benefit of being the best looking dog kennels on the market. After more than 25 years of manufacturing, we understand that the construction of our dog kennels is just as important as the type of materials we use. Whether you are a luxury boarding facility, animal shelter, rescue, control or a busy veterinarian we look forward to the opportunity to share our knowledge as a kennel manufacturer with you.