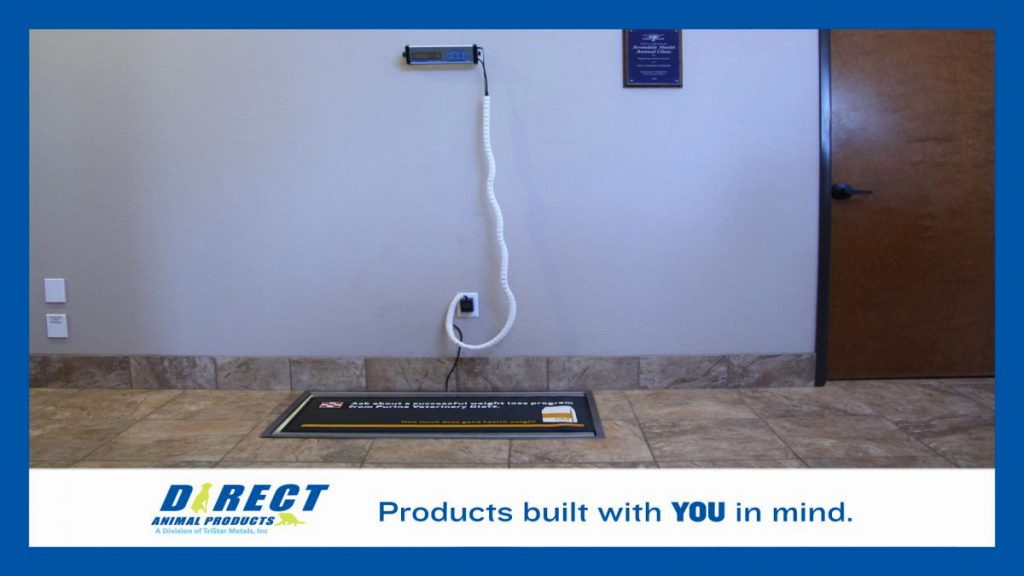 Why are Direct Animal scales so popular with groomers, luxury boarding facilities, and rescue shelters? All of our dog and cat weight scales are constructed of industrial-strength stainless steel to last and last.
Digital Dog Floor Scale: For use with all pets, our easy to operate floor scale is compact and lightweight yet it stands up to even the big dogs. It includes a digital readout, stainless steel top and rubber mat.
Digital Cat Scale: Our compact and light weight feline scale delivers accurate and reliable readings and has a 44-pound capacity.
At busy veterinary clinics, luxury boarding facilities, and animal shelters, scales can get worn out quickly. If you're tired of replacing your digital dog scale every few years, it's time to upgrade to a product of superior quality. Direct Animal Products offers a full suite of veterinary equipment, including digital cat scales and digital dog scales.
Is it time to replace your animal scales?
It might be time to upgrade to a superior Direct Animal scale if you notice any of the following problems with your current scale:
Rust or other corrosive damage
Illegible display readings
Unstable readings (display fluctuates)
Inconsistent readings (same test object gives different readings)
Inaccurate readings among different scales (same test object gives different readings when placed on different scales)
Direct Animal's digital dog scale
We've made our digital dog scale extra spacious and rugged to accommodate the largest of dogs—from Great Danes to Malamutes to Caucasian Ovcharkas! Our stainless steel design can safely hold up to 500 pounds — which means it's even capable of supporting a miniature horse!
No matter what the weight of the animal is, you're guaranteed accuracy with the four load cells.
Every detail saves time and helps your day-to-day activities run as smoothly as possible. The platform dimensions of this floor scale are 42" in length and 22" in width. It's simple to operate, and the "Hold" feature guarantees reliable accuracy every time. To conserve energy, we've built in an automatic "Power Off" feature. And for your convenience, it's operable with the internal battery or AC power.
Direct Animal's digital cat scale
Digital cat scales need to be highly portable, as they're often moved from room to room depending on need. Our scale is the perfect solution: Lightweight and compact. Use the internal battery to eliminate the need for wires, or switch to AC power when needed. Despite its own reduced weight, this scale is hefty enough to withstand up to 44 pounds (20 kilograms). Like our dog scale, it's constructed from never-fail, heavy-duty stainless steel.
This durable, rugged digital cat scale gives reliably accurate readings every time, and it's a breeze to operate. Use the "Hold" feature to increase accuracy even further.
Here at Direct Animal, your complete satisfaction is our highest priority. Chat with our sales team about animal scales for your luxury boarding facility or doggy daycare, and check out our downloadable catalog for information about our other premium animal products.
Contact us at 877-459-7827 or sales@directanimal.com for assistance.