If you're starting a pet business (such as grooming, daycare or boarding) or just looking for ways to add oomph to your existing business… think "upscale" or luxury.
Here's why. We came across a SmallBizTrends.com article showcasing the top pet business ideas for 2016*, and the three ideas that stood out to us the most are: "Luxury Boarding Service Operator, Doggie Day Care Operator and Pet Spa Operator."
And, we're seeing all kinds of proof that more and more pet owners are looking for exceptional local service providers and are willing to pay premium prices.
Let's look at how to make the most of today's pet-care trends with an upscale experience that attracts higher paying clients.
In the last several years, if you searched online for the best pet-business startup ideas or trends, you'd find a constant theme: pet owners are looking for local luxury services, including grooming, daycare and boarding.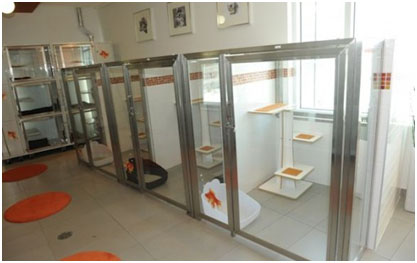 Back in 2013, Business Insider reported that, "The Luxury Pet Industry is Out of Control." More recently, FranchiseHelp.com called this "A Golden Age for Pets and Pet Businesses" as, "annual revenue growth in pet products and services is anticipated to clock in at some 4.4% through 2016 (one of the few industries that can say so)."
Topping the list in consistent growth are specialty pet services, one of the fastest growing segments in the industry according to IBISWorld forecasts. IBISWorld reported that the number of companies offering premium services such as full-service boarding facilities and luxury grooming "is projected to reach 14,611 by 2018, well above the 13,470 in operation today."
So, with this massive growth in pet-care services, how will you stand out among the local competition and win over pet owners?
Consider going upscale with your facility by incorporating the following ideas into your design.
To start or revamp a pet business offering luxury grooming (or pet spa) services…
Make sure your front entrance is modern, colorful and attractive, welcoming pet owners and their pets. Proudly mention that you offer the best dog grooming equipment in town, which makes all the difference in keeping pets safe and comfortable during care.
For instance, our patented swivel ramp grooming tub ensures that dogs of all sizes can easily and gently enter the tub without being lifted. This reduces stress on dogs and staff. Once inside the tub, our elevated grooming tub grates and pet-specific drains keep pet feet away from water, soap, hair and other materials, so pets don't panic. And, our tubs include tie-down rails and hooks to keep pets in place while bathing, reducing any chance to injury.
To offer luxury boarding and daycare services…
Make sure clients see a spectacular environment for their beloved dogs or cats. Today's luxury facilities are bright, cheery, modern and clean — with high-quality, sanitary stainless steel kennels and runs coordinated with attractive, colorful panels like our Starlite® kennel panels.
Pet owners love to see how you'll pamper their pooches in cozy sanctuaries featuring safe, tempered-glass kennel doors, stainless, sterile bowl feeders, soothing artwork and other quality touches. Some high-end kennels even include flat-screen TVs showing dog-friendly programs.
Cat owners will be thrilled to see that you offer loving care in the best cat condos in town, with plenty of room for perching, playing and resting. Also be sure to present a calming mood in your facility, perhaps with classical music playing softly in the background. A 2015 study showed that cats respond well to classical music, so this is a great way to soothe them while they're home away from home in your facility.
These are just a few of the ways you can appeal to pet parents with plenty of cash, looking for higher-end choices for their dogs' or cat's care.
If you'd like more ideas on establishing a luxury pet-care facility in your region — call us at 877.459.7827 or email sales@directanimal.com.
Other Questions? Comments? Please add a comment below. Thank you.
Sources:
http://www.nbcnews.com/science/weird-science/scientists-say-cats-prefer-classical-music-mellowing-out-n332641