There are so many options for caging when it comes to large and small companion animals. Every time I watch a show on Animal Planet or see a commercial with an animal in a cage I pause, rewind and re-play in slow motion to take a look at what these animals are being kept in. We design and manufacture cages here in Texas and we've tried to think of everything from a dog or cat's perspective as well as the human's perspective that has to use and clean the dang thing.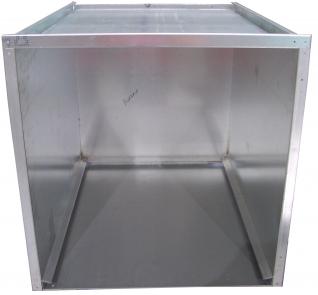 Durability: From the animal's perspective, they don't really want to be caged, let's just be honest about that fact, but they really don't want to be stuck in a small cage, standing in their own urine and being scared half to death when their tail hits the cage and it sounds like ten thousand thunderstorms. So we started out with 18GA galvanized steel for the cage body, we chose 18 because it's heavier than the industry standard of 20 and 22GA and that means when a tail hits the cage repeatedly the sound is dampened, making it less scary and unbearable for the animal inside.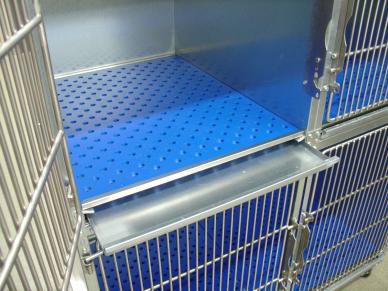 Safe, Stay-Dry Sub Floors: We added an amazing feature with these elevated floors which is perforated cutting board material. It is abrasion, moisture, stain and odor resistant, FDA, NSF and USDA approved for it's closely packed structure and chemical resistance. It's an ideal application for animal caging which will endure daily abuse from the animals and daily cleaning from their keepers. We use a special thickness which yields high impact strength and resists scratching. The sub-flooring elevates the animal so if the animal urinates, it goes through the floor and falls into a collection tray which can be pulled out and cleaned while the animal is still inside the holding area. You could even use a disposable leak proof pad inside the collection tray if you wanted to.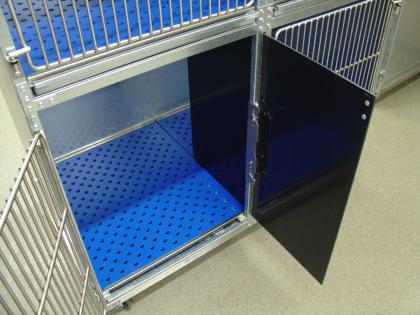 Versatile: We made our cage system completely customizable so if you want to accommodate cats, small or large dogs, we can meet their space requirements with our size options. Our bottom cage has a divider panel that can accommodate 2 medium sized dogs or 1 large dog so there's versatility built right in.
From your perspective as someone caring for the animal, you're concerned most about clean-ability, ease of use, and longevity. You want to spend your money on something that is worthwhile. We have customers call us to add on to cages they've purchased from a retiring vet or something similar, so we know these animal cages last and last and continue look nice because they are made of a durable material to begin with.
Easy-close, Easy-clean Doors: We've incorporated a slam latch design so you can close the door with one hand if necessary. In addition, the entire door lifts off its hinge for a complete clean when needed.
Ships Fully Assembled: Our small and large animal cages ship fully assembled on wheels/casters so there are no frustrating set ups or assembly. Just roll them into place. Of course if you wanted a built in cage bank we can accommodate that too. It's really up to you and what you need to successfully accomplish your goals. Check out our options to see how we can fit your needs, and then contact us for a free personal consultation at 877-459-7827 or sales@directanimal.com