The Americans with Disabilities Act (ADA) was designed to improve accessibility for individuals with limitations, including physical handicaps. All businesses are legally required to be ADA compliant by making reasonable accommodations. It's important to note that, although not all businesses are required to make reasonable accommodations under the ADA, it's still good practice to do so.
Expand your customer base with ADA-compliant dog grooming tubs
Failure to be ADA-compliant can limit your prospective customer base. If you have a grooming practice or a veterinary clinic that offers a self-service grooming station, for example, not having ADA-compliant dog grooming tubs will prevent you from serving customers with physical handicaps. Fortunately, Direct Animal can make it easier for your facility to become ADA compliant, and to expand your customer base.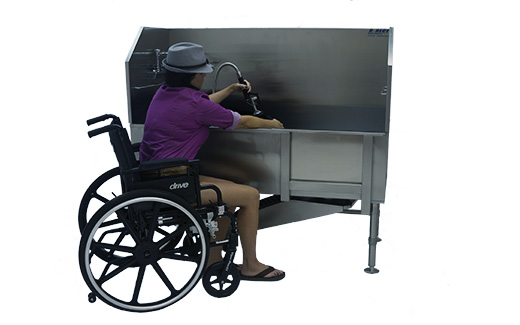 Bring in positive publicity by becoming ADA-compliant
When you install an ADA-compliant, self-service dog grooming tub, you may find that the publicity it can generate alone will make the investment worth it. It's a good idea to send press releases to local newspapers and news channels to spread the word about the latest accessible amenity in your community. People often like to patronize businesses that are socially conscious, meaning that you could bring in new customers who appreciate the idea of having an ADA-compliant grooming tub in the community, even if they don't need to use it themselves.
Introducing the first ADA-compliant grooming tub
To meet the needs of your dog care facility, Direct Animal is pleased to introduce our first ADA-compliant dog grooming tub. In fact, it's the first ADA-compliant tub that we know of in the industry. Check out these wheelchair accessible features:
Swivel ramp: This innovative, swing-out swivel ramp enables dogs to walk in without being lifted. It can then be moved out of the way to accommodate a wheelchair.
Lower tub design: The tub itself has a low profile, with a shallow wash basin, enabling users in wheelchairs to easily wash their pups.
Fixtures: The faucet and sprayer are placed within easy reach of all users.
Restraint hooks: Most tubs have restraint hooks at the back of the unit. We've built our ADA-compliant grooming tub with side restraint hooks so that all users can easily reach them.
Get in touch with Direct Animal today to find out how you can install the ADA-compliant self-service dog grooming station in your facility. Call us at 877.459.7827 or email sales@directanimal.com.