Having worked with so many individuals on their dog kennel plans, we've discovered there are limitless possibilities when it comes to the best dog kennel designs. When discussing dog kennel configurations, you have to consider all of the various parts that make up the dog kennel. You have the door, the sides and back, often referred to as dog kennel panels, the dog kennel floors and the dog kennel covers, or overhead enclosure. Drainage is another very important component when it comes to dog kennel design, but there are so many variables that we'll tackle each component in a separate blog. I highly encourage you to do your research when it comes to kennel manufacturers. I know it's tempting in this economy to go with the lowest bidder, but a manufacturer who is offering you high quality for a bargain basement price (don't walk, run).
First, the kennel door. Each kennel door type that we sell is made up of heavy duty material. Whether it be stainless steel rod type, luxury glass or a combination of the two. The trend we're seeing lately is tempered glass doors. The glass offers a luxurious, humane look and feel, which is one of the factors that helps potential clients decide your boarding facility is right for them, along with other amenities such as doggy daycare and top notch efforts to keep the place clean and as odor free as possible. Let's break down our door frame. Whether you're looking at a stainless steel or glass kennel door, our frame remains the same. It's made up of heavy duty 1 ¼" polished stainless steel square tubing. The door is hung on a recessed heavy duty hinge that allows the door to swing both in and out. So if you have a long narrow room and you'd like to maximize your square footage by putting kennels on either side, it's very possible to do if the doors can open to the inside of the kennel. Other advantages will allow you to restrain a rambunctious dog when you open the kennel to the inside. None of our doors have a bottom rail, which eliminates the trip hazard and urine, hair and feces will never get trapped in a hard to reach place.

Stainless steel kennel door
This type of door is hand welded and polished, made from ¼" heavy duty stainless steel rod which is welded at the intersections to provide ultimate strength and durability. (this door comes with wall angles which keeps the door up to eliminate any type of sagging)
Glass Kennel Door
We offer both clear as well as obscured or patterned glass. Our clear glass is ¼" thick and tempered to prevent shattering and scratching. The patterned glass is 3/16" tempered and provides a little privacy for a kennel floor plan where kennels are opposite one another. A misconception about glass doors is that they show nose prints and are harder to keep clean, but on the contrary, they are far easier to clean than a standard stainless rod type door and will stay looking brand new for years to come. They can be sprayed down and wiped or squeegeed rather quickly.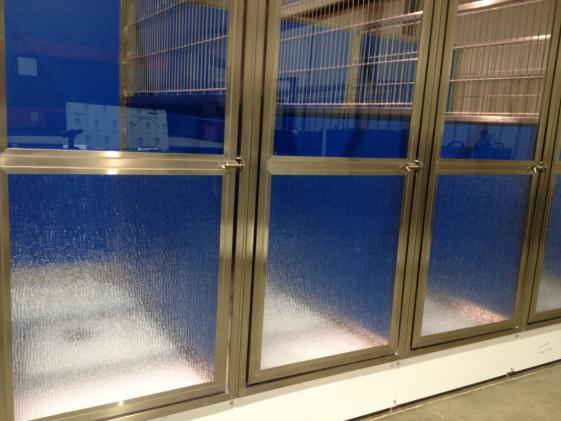 Like most manufacturers, we offer a swivel bowl feeder as an accessory which can be added to any of the doors we sell. Basically it offers a way to quickly replenish the animals without having to enter each and every kennel.

If you're entertaining the idea of starting your own dog kennel business, we encourage you to speak a number of manufacturers and really educate yourself on what is out there. We're here to provide you with information and solutions for custom kennel design and answer any questions you may have regarding our products and pricing. Visit the kennel portion of our website and then call us for a free quote: 1-877-459-7827