Dog Day Care Equipment Room Dividers
Dog Day Care Equipment Room Dividers
Owning a dog day care is a very rewarding albeit challenging endeavor. Meeting the physically active needs of large and small breeds with varying levels of temperament takes a lot of planning and careful supervision. When you find the right balance, your clients are happy. These days they will then "like" you on Face Book and tweet images of their pet getting dropped off at doggy day care to all of their followers, giving new meaning to the term "word of mouth". Within days you can gain more clients than you know what to do with. For this reason room dividers are an excellent way to give you flexible play spaces. It is important when shopping for room dividers and other dog day care equipment that you do your research. You'll want to make sure that the dividers are made of a heavy duty, pet safe material, on lockable wheels so your staff can move them around into multiple configurations.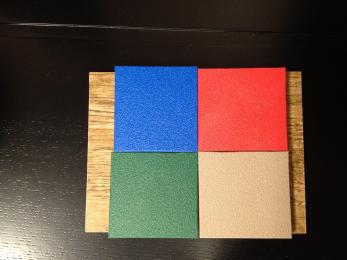 Direct Animal's room dividers are made of High Density Polyethelene (HDPE) It's similar to cutting board material and has many benefits. It is abrasion, moisture, stain and odor resistant, FDA, NSF and USDA approved for its closely packed structure and chemical resistance. It's an ideal application for dog day care equipment which will endure daily abuse from the dogs and daily cleaning from their keepers. We use a special thickness which yields high impact strength and resists scratching. We offer these dog kennel panels in 4 standard colors, blue, red, green and clay.
The HDPE is then set inside a stainless steel frame on rolling/locking wheels for versatile configurations. The result is a colorful, less expensive way to divide space that doesn't include construction permits and permanent walls. If you're in the market for doggy day care room dividers or any type of dog boarding supplies send us an email or call us at sales@directanimal.com and 877-459-7827.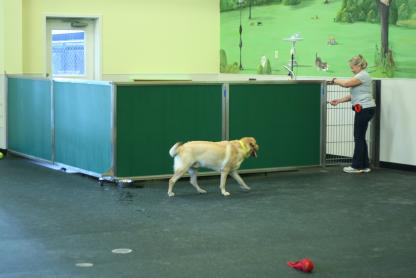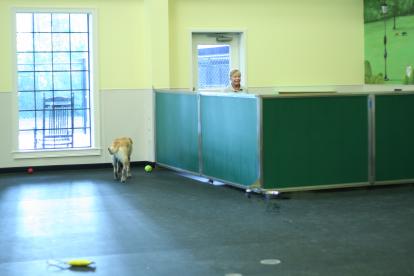 Images taken at Cypress Falls Pet Resort & Spa Spa www.cfpetresort.com
We are experts in kennel design and manufacturing, committed to quality control and testing. We actively seek out and test the best materials that will promote durability and longevity with the added benefit of being the best looking dog kennels on the market. After more than 25 years of manufacturing, we understand that the construction of our dog kennels is just as important as the type of materials we use. Whether you are a luxury boarding facility, animal shelter, rescue, control or a busy veterinarian we look forward to the opportunity to share our knowledge as a kennel manufacturer with you.