At Direct Animal Products, we're always looking for ways to help the professionals who run dog grooming businesses, dog daycares, boarding facilities, shelters and other types of dog-care facilities.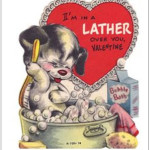 Your success is our mission as we design and manufacture durable, back saving and lifetime-lasting professional dog grooming/boarding equipment such as our patented dog bath tubs with swivel ramp, electric adjustable grooming table, stainless steel cages and more.
But we also want to help you find other ways to thrive as a business owner. That's why this post is devoted to Valentine's Day and how you can capture the hearts of your customers so they keep coming back to you/.
Here are 5 ways to keep your dog-business customers loyal by showing them extra love with special Valentine-themed treats.