Top Trends in Dog Kennel Designs for 2014
"We want bigger, brighter and more inviting kennels that are easy to clean." That's what we're hearing this year from shelter owners, dog boarding facilities managers, dog groomers and other pet professionals.
Our customers tell us that people feel more positive about adopting pets when they see them in bright, friendly surroundings. And, clients who bring in pets for boarding and grooming are impressed when their facility has cheerful, high quality dog kennels.
As a result, more pet professionals are asking for dog kennel panels in bright colors or textured glass, as well as bar configurations that don't look like "jail cells," and more.
Let's take a closer look at the top trends in dog kennel designs for 2014.
Today's dog kennel designs have come a long way to make sure facilities are more appealing to pets, the staff, and even more important — to the people who may adopt shelter pets.
These three elements are meeting the demand for attractive pet-care spaces.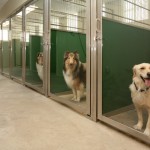 Dog kennel panels in warm, cheery colors. Our Starlite side and back panels are available in 4 popular colors. These panels are made of FDA-approved HDPE (high density polyethylene) material that stands up to anything active dogs can dish out because it resists scratches, moisture, stains, odors and cleaning chemicals. Choose the perfect color complement to your facility's logo and interior design. See an example of Starlite dog kennel side panels.
Light-filtering glass dog kennel panels. Another popular option is glass because it lets in the light while allowing people to easily see and engage with pets. We use 1/4″ clear tempered glass because of it's strength against active dogs, and frame it in 1 1/4″ 18-gauge 304 stainless steel tubing; the heaviest and sturdiest frame in the animal-care industry. This combination of glass and steel offers exceptional performance. See how glass doors can make a big difference.
Bigger, brighter cat enclosures. Lately we've been asked to provide cat havens that feature entire rooms of kennels with a lot of light and glass backs. If we do get a request for stainless steel bar doors, we turn the bars sideways instead of up and down, so the doors look more like blinds (not prison bars). Also our cat condos are available in more than 100 colors.
Bonus: Easy to clean. Our Starlite panels, glass panels, stainless steel frames and other dog kennel features made kennel cleaning easier than ever, so you and the pets in your care can enjoy a sanitary environment.
Questions? Comments? Please add a comment below. Thank you.
We are experts in kennel design and manufacturing, committed to quality control and testing. We actively seek out and test the best materials that will promote durability and longevity with the added benefit of being the best looking dog kennels on the market. After more than 25 years of manufacturing, we understand that the construction of our dog kennels is just as important as the type of materials we use. Whether you are a luxury boarding facility, animal shelter, rescue, control or a busy veterinarian we look forward to the opportunity to share our knowledge as a kennel manufacturer with you.