Double Stack Dog Kennel Designs With 7 Sweet Safety Extras
Raise your hand if your pet business or animal shelter deals with wiggly, nervous, skittish or even unpredictable dogs and cats. They can be a real challenge, right?
Even though you carefully screen the pets under your care, sometimes dogs or cats can be nervous or spooked by noises and other situations. Or, you may not have the luxury of screening all pets for temperament before taking them in (such as in a no-kill shelter situation).
Therefore, safety is a constant concern for you and your staff… and for the animals in your care.
We understand. That's why our space-maximizing double-stack dog kennel designs are engineered with 7 safety extras you won't find anywhere else.
When our design team began developing our double-stack dog kennels, we visited dog boarding facilities, animal shelters and other pet-care facilities to consider the safety aspects of handling all types of pets. We listened to the concerns of pet professionals all over the U.S.
As a result, we came up with our 7 Safety Extras — a checklist you can use to compare our double-stack dog kennel designs with others on the market. We're confident that you won't see all 7 of these safety features with other kennels.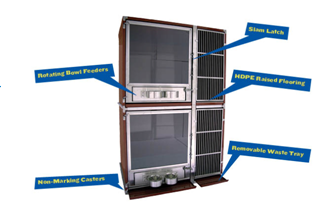 304 stainless steel doorframes for reliable alignment. Our hand-welded and polished stainless steel construction never comes loose, so you don't have to worry about doors becoming misaligned. (Other kennels screw the doorframes together, and screws become loose over time.)
 A slam latch for safe, one-hand closing: When you're managing a squirmy animal, this easy one-hand feature ensures that the door always closes quickly and safely. No chance for escape artists to break free!
 Raised flooring for a safe, sanitary environment: Our easy-clean HDPE Raised Flooring keeps pet feet dry at all times. Fluids drain under the floor to our removable trays (see below).
 Removable waste trays for sanitary pet waste handling: One of the most thankless yet critical jobs of pet care is handling the waste. It can be unpleasant and even unsanitary for your staff and the pets. That's why our double stack kennels include removable waste trays. Simply pull out the waste tray and dispose its materials in a snap!
 Super strong ¼" tempered safety glass: Our glass doors provide an open, luxurious atmosphere to keep an eye on your animals; but also the glass reduces noise and stands up to excited dogs.
 Safe, rotating bowl feeder: As you know, it can be stressful to try and feed a frightened or upset animal. We designed a safe, easy approach to providing food and water without putting your hand inside the kennel. Instead, our 360-degree rotating stainless bowl feeder simply attaches to the doors of our double stack kennels.
 Locking, secure casters (wheels): Count on these kennels to stay put under all conditions… unless you choose to release the locks when you want the flexibility to move kennels when needed.
Safety first! We strongly believe in the safety of our customers and the animals in their care. That's why we're constantly developing new safety features in all our dog kennels.
Questions? Comments? Please add a comment below. Thank you.
We are experts in kennel design and manufacturing, committed to quality control and testing. We actively seek out and test the best materials that will promote durability and longevity with the added benefit of being the best looking dog kennels on the market. After more than 25 years of manufacturing, we understand that the construction of our dog kennels is just as important as the type of materials we use. Whether you are a luxury boarding facility, animal shelter, rescue, control or a busy veterinarian we look forward to the opportunity to share our knowledge as a kennel manufacturer with you.