Dog Kennel Designs and Configurations: Part 4 – Dog Kennel Covers
In our 4 part Dog Kennel Designs and Configurations blog series, we've covered the door, the sides and back, often referred to as dog kennel panels, the dog kennel floors and now finally, the dog kennel covers, or overhead enclosure. For boarding facilities and animal control/shelter environments animal safety and escape prevention is a top priority. Some of the dogs in an animal shelter have jumped their fence at home and were rewarded with their temporary freedom so having at least a few kennels equipped with kennel covers is recommended if you've identified one of these animals in your care. Ideally you want a cover that is made to withstand repeated blunt force, but not so heavy that it will cause any type of injury or harm. Our dog kennel cover is made of 1/4" thick round stainless steel rod. It's very smooth material and non-porous so it resists bacteria and looks nice too. It's fully welded for maximum durability then set inside a stainless frame. It easily attaches to kennel side panels or existing block wall and it's available in custom sizes. It's designed with animal safety in mind so even the craftiest escape artist will remain safe and sound, right where you left them.
Call or email us today for help with our dog kennel designs or your kennel floor plans, 877-459-7827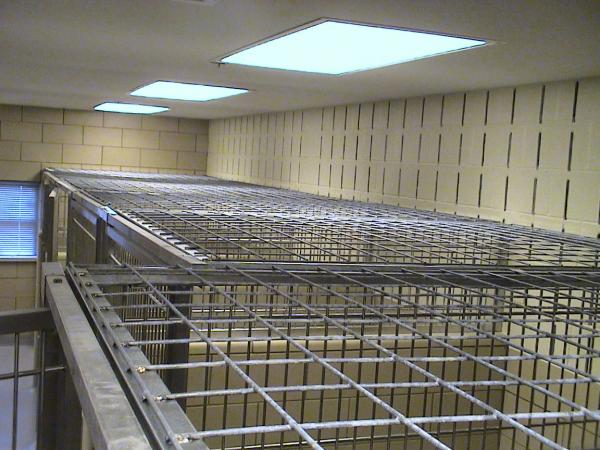 We are experts in kennel design and manufacturing, committed to quality control and testing. We actively seek out and test the best materials that will promote durability and longevity with the added benefit of being the best looking dog kennels on the market. After more than 25 years of manufacturing, we understand that the construction of our dog kennels is just as important as the type of materials we use. Whether you are a luxury boarding facility, animal shelter, rescue, control or a busy veterinarian we look forward to the opportunity to share our knowledge as a kennel manufacturer with you.