The Best Cat Condo Designs For Your Luxury Boarding/Daycare And Animal Sheltering Needs
As a leading manufacturer of cat condos and all things animal related, we're always innovating and looking for ways to improve on our designs and make exactly what our customers are asking for. To that end we've established that each customer has a different need so custom configurations are key.
We offer single, double or triple stacked boarding options for your space in over 100 color options to complement your taste or stainless steel if preferred. Durability is close to our client's hearts as well. They want to buy something that will last decades and our cat condos have the ability to last and last while continuing to look brand new. We build heavy-duty stainless steel cat condos, fully welded in a one-piece vertical design for lasting stability. Our exclusive design utilizes both urine-retaining front edges and fluid-retaining vertical portals prevent dripping into lower units, no other cat condos offer this benefit. A separate kitty litter section keeps the living area clean and our perforated PVC ventilation tube design takes away the bad air to promote the healthiest environment. Cats crave comfort and versatility. They need to climb, perch and lounge so our horizontal and vertical portals open and close to promote cat pleasing exploration. Animal shelters across the world understand the need to showcase the kitties in their care so our cat condos offer ¼" clear tempered glass backs and/or doors so displaying adoptable animals is easy. Animal care givers often have their hands full so we thought it would be nice to offer secure and easy one-handed closure in the form of a unique slam latch on the door. The door can be open and securely closed with one hand. No hassle installation is important, because let's face it, time is money and why waste it on tedious assembly. We ship our cat condos fully assembled on wheels/casters for easy mobility and we have several designs from something simple and functional to decorative and ornate. Explore our durable custom cat condos and our new luxury cat runs.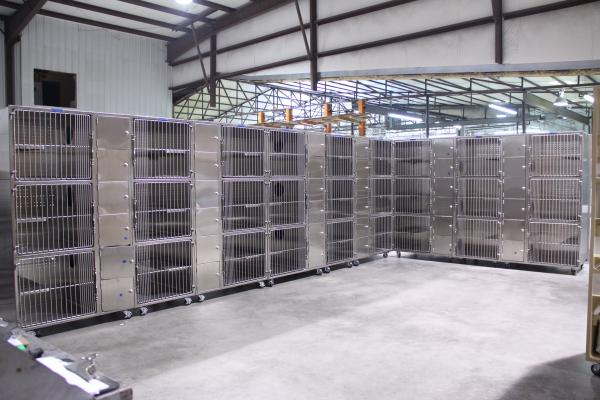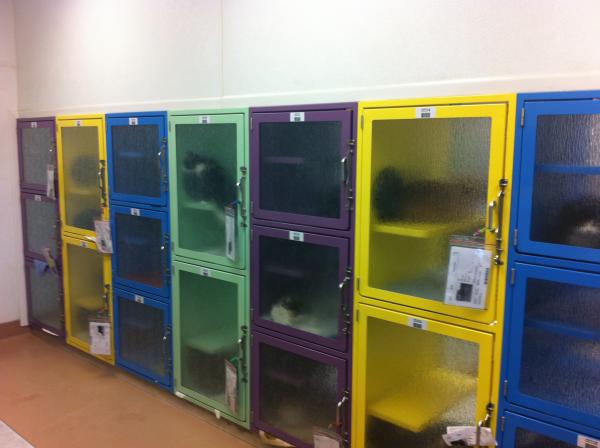 We are experts in kennel design and manufacturing, committed to quality control and testing. We actively seek out and test the best materials that will promote durability and longevity with the added benefit of being the best looking dog kennels on the market. After more than 25 years of manufacturing, we understand that the construction of our dog kennels is just as important as the type of materials we use. Whether you are a luxury boarding facility, animal shelter, rescue, control or a busy veterinarian we look forward to the opportunity to share our knowledge as a kennel manufacturer with you.